Latest News
GQ X BFTA: LWFM'S BIG CONVERSATION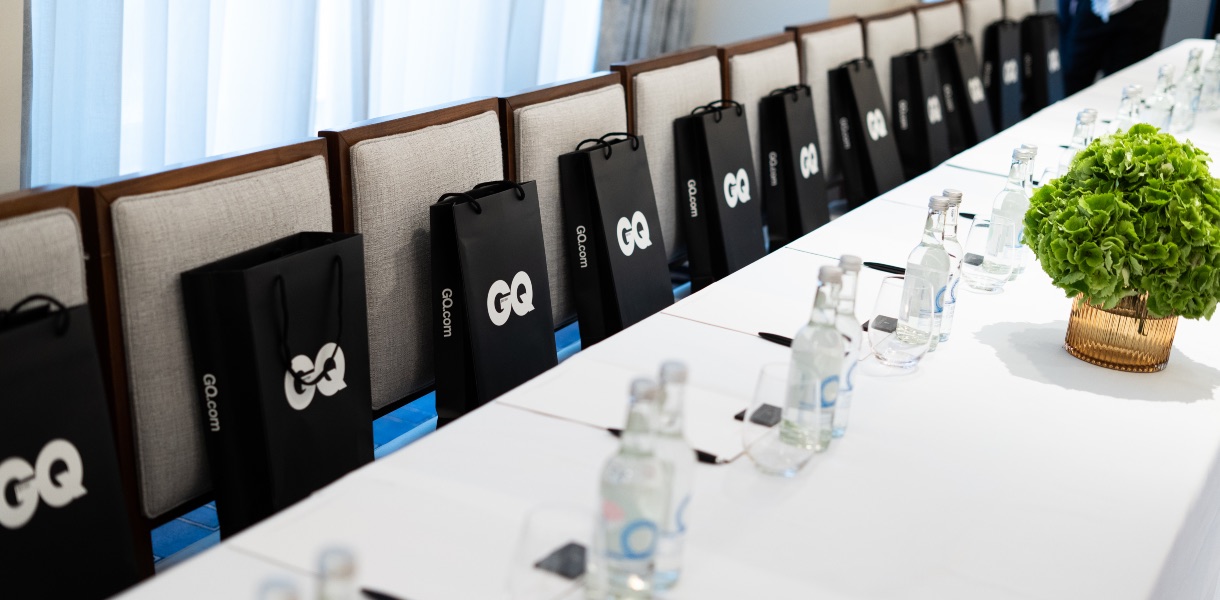 GQ X BFTA: LWFM'S BIG CONVERSATION
London Fashion Week Mens not only kicked-off with a bang, but it concluded with one too. On June 10th, the concluding day of London Fashion Week Mens SS20, the British Fur Federation and British GQ hosted a breakfast panel discussion at Claridges hotel, where a panel of distinguished fashion luminaries discussed the rise of natural fur in menswear. And yours truly was amongst the influential fashion audience.
Moderated by editor in chief of British GQ Dylan Jones, speakers from all branches of the fashion and fur industry, consisting of British Fur Trade Association (BFTA) Chairman Frank Zilberkweit, fashion designer Astrid Andersen, President of 'Yves Salomon', Yves Salomon, Copenhagen fashion brand 'Les Deux' founder Andreas Von Der Heide, and Central Saint Martins journalism graduate Alexandra Castle, engaged in deep and serious political, social and environmental debates surrounding natural fur and its position in the fashion industry.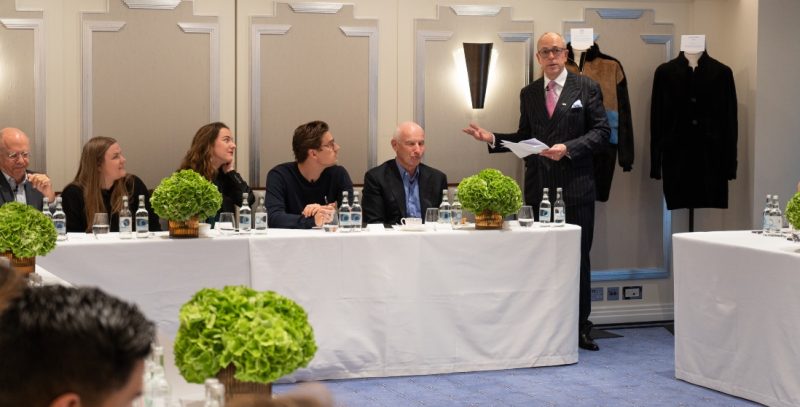 Joined by none other than musician and fashion model Dougie Poynter to my left, and Deputy Editor and Fashion Features Director at British Vogue Sarah Harris to my right (to name only the closest). All in attendance, including British Fashion designer Osman, representatives from British GQ, Holland and Holland, Daxs, Harrods, and Harvey Nichols amongst others, were educated about the nuanced and intricate debates and realities surrounding natural fur. A series of questions put to the panel offered guests a fresh perspective and new lends through which we will all view fur, it's rise in menswear, and position in fashion. Allow me to start from the very beginning.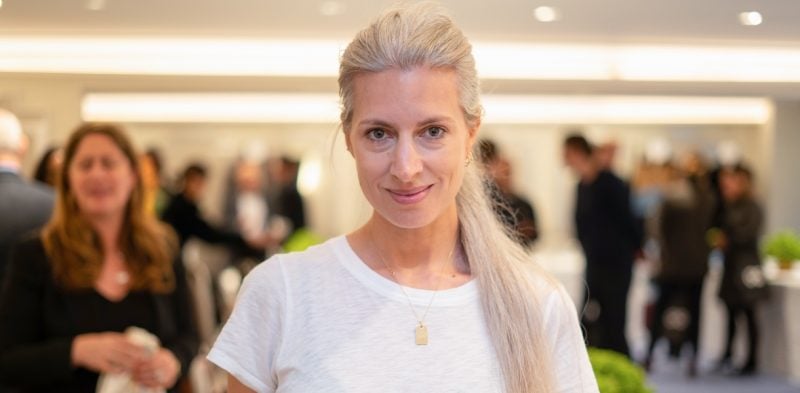 The panel kicked off the event with an engaging debate as to whether there can ever be an 'ethical' or 'sustainable' alternative to natural fur, given synthetic fur is fundamentally plastic. It has increasingly become apparent that consumers do not know that synthetic fur is made from plastic –  a derivative of oil – namely due to the branding of plastic fur a: synthetic; fake; faux; or even eco. This branding provides consumers with falsehoods that the clothing they are purchasing is ecologically friendly and sustainable. Consumers do not realise that the plastic fur they are wearing will need to be recycled, forever. It will never biodegrade.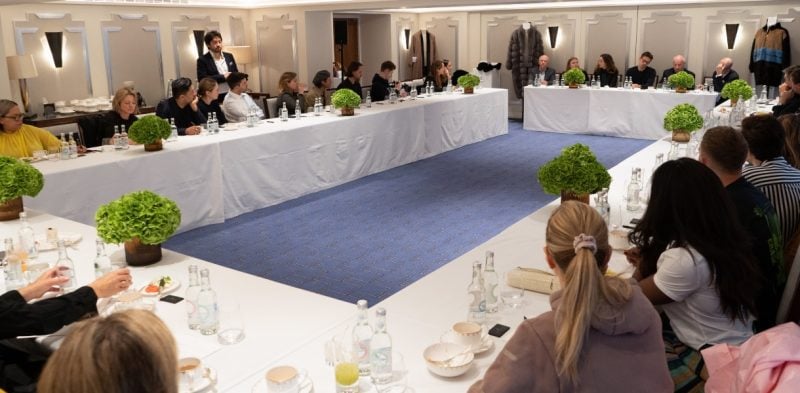 The discussion then homed in on today's customers and their increasing demand for assurances on transparency and certification. This is something Frank of the BFTA was confidently able to communicate with the launch of IFF's FURMARK program in 2020. Many guest, unknowing of the traceability and certification program that is FURMARK, certifying furs from farms to consumers,left the event feeling secure in the knowledge that the fur they stock (in Harvey Nichols or Harrods, for example), or wear, is from a certified high-quality source.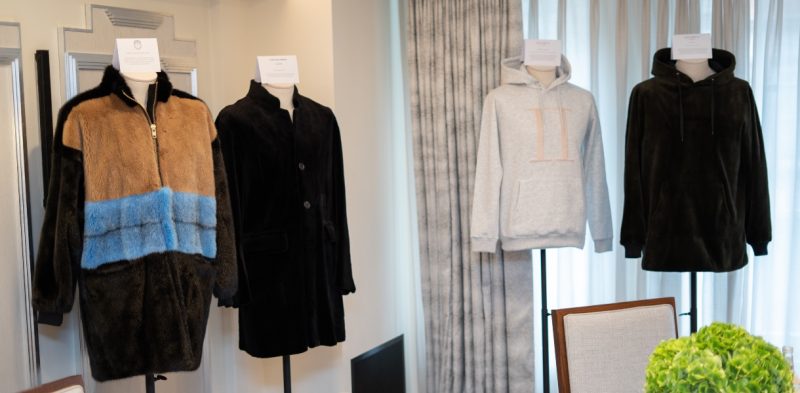 On display during the event were a variety of displays highlighting trendy men's fur fashion. This included 6 mannequins featuring the designs from panellists; Astrid Andersen; Les Deux and Yves Salomon; and plinths showcasing the accessories from London-based designers Rebecca Bradley London; and Rachel London.These were great congregation points for guests at the start and end of the event, with many touching the furs and trying on the bags.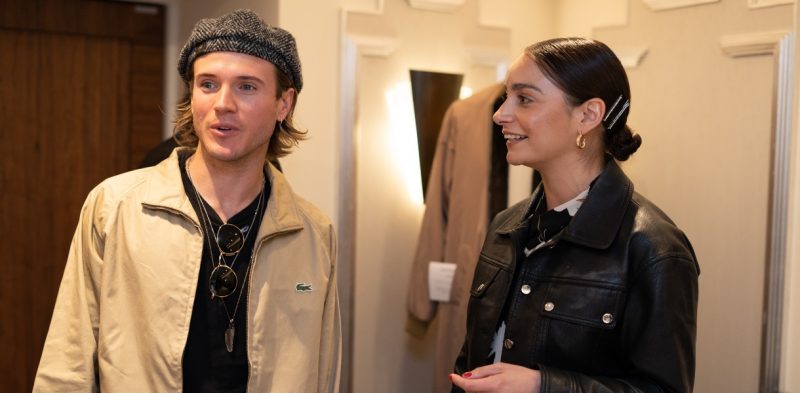 Moreover, it wasn't long before the panels attention was turned to a debate about the activities of animal rights groups and their effect, with media noise, on fur sales. The general consensus amongst panellists was that, despite what the media propagates, fur sales not only worldwide, but in the UK – a dynamic market – are doing well. Then, with a focus on the future, topics surrounding changes in millennials opinions and consumption habits, given that millennials are considered to be the most socially and environmentally conscious in history, it was largely accepted that trust, transparency are the key to answering millennials demands.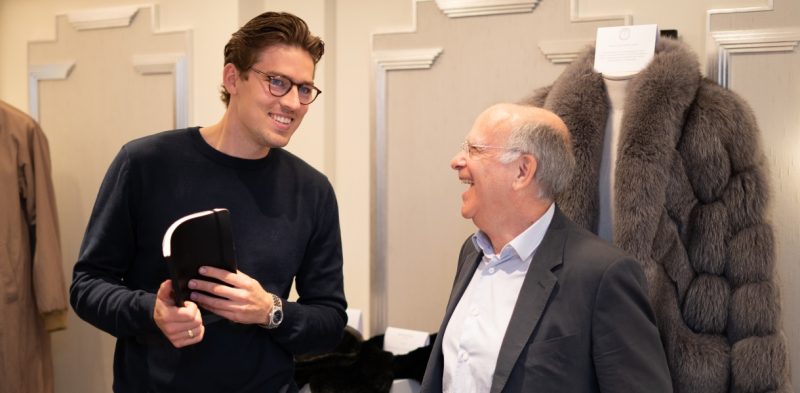 Following this, an interesting conversation surrounding societal greenwashing, often faux-greenwashing, and the real motives behind fashion brands going fur-free.The debate then turned to the crux of the event – the rise of natural fur in menswear. Panellists identified the rise of 'luxury' in the menswear sector, the appetite for exclusivity and customization, as well as the rejection of fast fashion as being the main reasons behind the developing trend.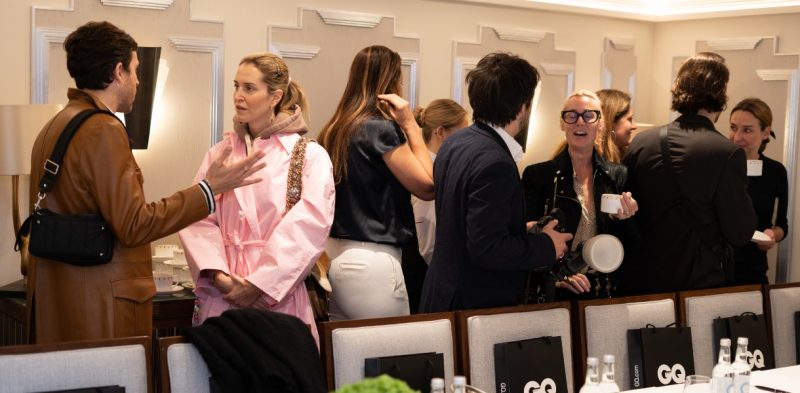 After an informative debate, the panellists and attendees had the opportunity to engage in side discussions.Dougie turns to me and openly confesses that on his way to this panel, he was of the steadfast mind-set that fur is wrong and should be banned. However, after hearing the realities of the fur trade, in particular Andreas' experience of visiting a fur farm where the minks were treated better than his own pets (Andreas' exact words), and as a counter reaction and rejection of plastic fast-fashion, he has changed his mind about fur, or at least started to see the ethical and sustainable advantages to fur.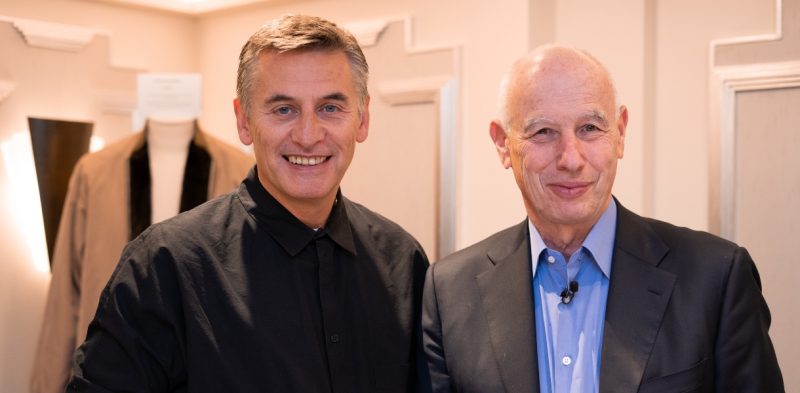 IFF's and GQ's breakfast panel did much to educate the influential British fashion scene, offering the fur trade an invaluable opportunity to debunk the many myths and highlight the many advantages of fur. All guests in attendance received a GQ goody-bag including the latest edition of British GQ, a copy of IFF's Natural Fur brochure and Fur Mark Brochure, and a gift by Oh! By Kopenhagen Fur.
Read about the event online in GQ. 
______________________________________________________________________________
HOW FUR HAS SURPASSED INTO AN ALL SEASON MATERIAL. FUR FOR THE SUMMER!
Your favourite fur coat may be too much to wear in the sizzling summer weather, but that isn't an excuse to discard fur altogether from your summer wardrobe until the winter season approaches. Trend is revolutionising, and designers are incorporating fur in ways that makes it centre focus in their spring/summer collections, meaning that consumers, like me and you, can make a fashion statement all year round. It may come as a surprise, but there are in fact numerous ways that you can assertively wear, and blossom in your much-loved type of fur. Taking some inspiration from our current streetstyle looks and other brands, I have rounded up the ways in which fur can give you a long, hot, summer.
Accessories are the number one way in how to incorporate fur into your summer lifestyle. From bags, to hats, to fur details on shoes – there are plenty of innovative ways that fur can bring that holiday-cheer. It has become somewhat apparent that fur accessories have surpassed into a non-season fashion staple that can be styled and modified for any kind of look, for any kind of situation/weather/season. They are fun, chic, and trendy; spot-on components to create a brilliant non-sweaty, summer look. Here are some ways that you can wear fur and look hotter than the season itself.
Footwear
Shoes/sliders with fur implemented on them in one way or another is an exemplar way to include fur to an outfit in a subtle manner. Fur footwear, being one of the simplest ways to wear fur, also offers a variety of styles to which they can be worn. They are versatile and can be sported on a day-to-day basis – fur slides for a casual trip to the park, or for an evening occasion – fur heels for a night out. This still allows you to incorporate fur into your attire, without the big and extravagant winter vibe look. Fur sliders especially have become increasingly popular, especially on the runway, having all elements of playful, striking and comfortable for the holidays. Never-mind the heat either as these furry outwear options won't give your feet blisters in the hot weather any time soon.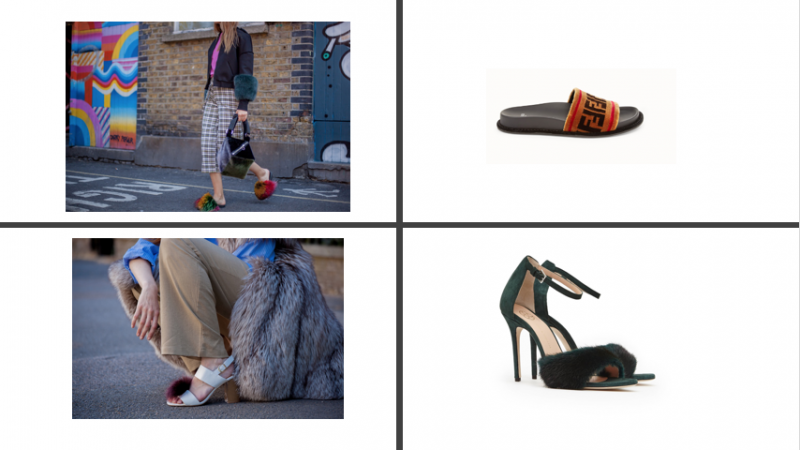 2. Handbags
Handbags are an alternative of 'wearing' fur without running the risk of sweating in the summer sun, and luckily, there is an inclusive range of handbag styles to choose from. Whether it be a furry backpack, a clutch, bum-bag, or over the shoulder bag – there are many types to be played with and picked from for every kind of voyage for the summer holidays and is sure to add a touch of allure to your outfit. No matter what you're wearing. If you're on the move, or taking it easy, here is a look at a selection that every holiday go-getter's wardrobe would benefit from, despite what your taste is.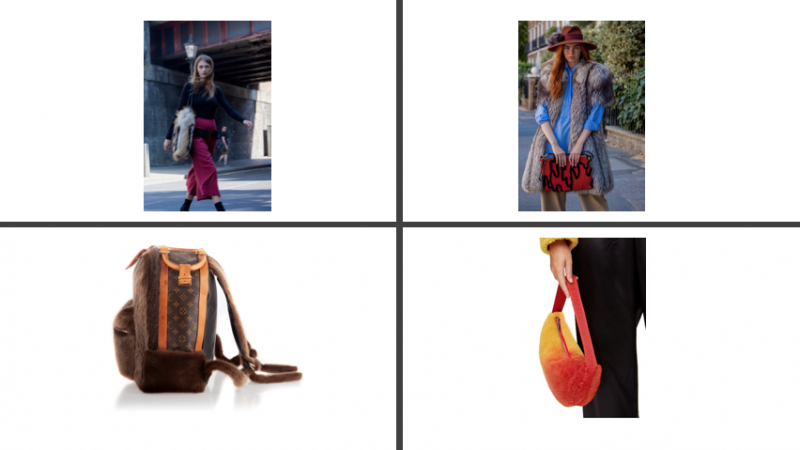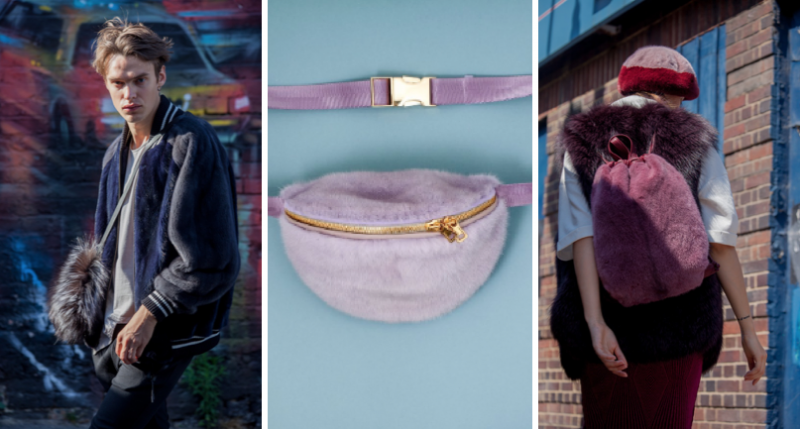 3. Fur Detail
Another brilliant way to incorporate fur is through detailing. This can mean on anything you choose to wear, whether that be a kimono, dress, cardigan, or hat – fur is compatible for the heat. Although widely underrated, fur detailing can effortlessly be executed and is certainly a statement to fulfil during the seasonal look. What better way than to indulge yourself in a fur-detailed negligee during the crisp summer breeze, or to wow in a fur-detailed dress? Although fur may not be the most palpable material to wear during the summer, fur detailing gives you the freedom to explore and experiment allowing originality to take its course.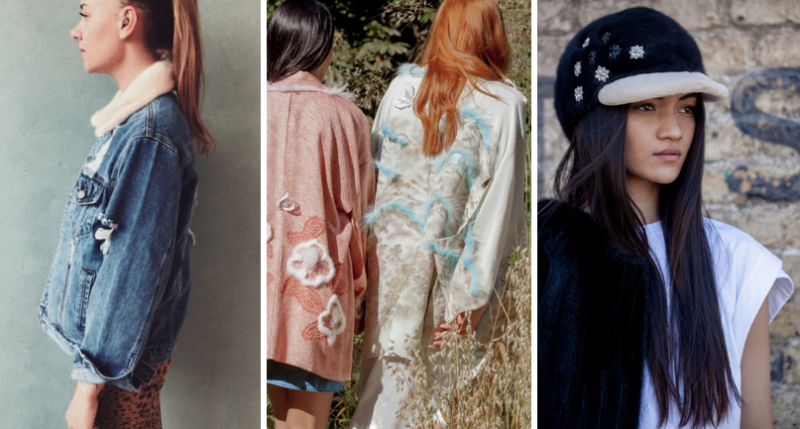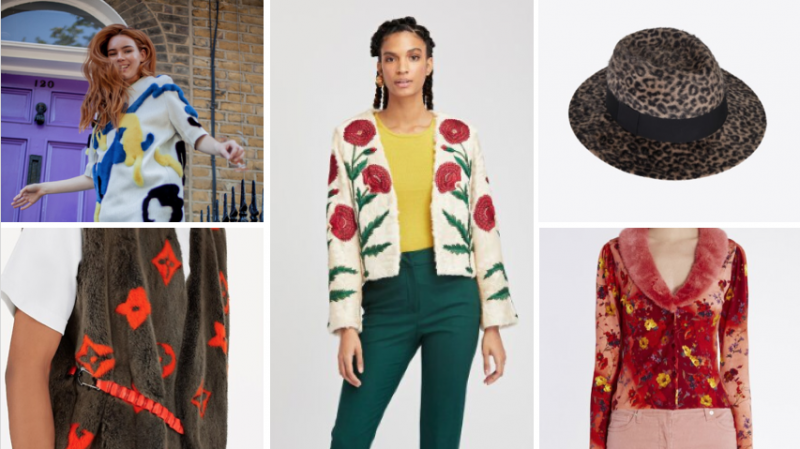 With the rise of fur, there shows no sign of stopping the material from being worn in different sorts of ways. As summer soon approaches, fur still endures, and although we may be used to large fur coats taking over our winter wardrobe, fur is not budging no matter what the season is. Natural fur has become a material that has taken innovative routes – seen on shoes, hats, bags, etc and it has definitely made its imprint; that it's here to stay in any way which possible. So, make sure you're the epitome of elegance and good taste this summer and go for your natural fur fave.
_____________________________________________________________________________
Global fur industry declares war on animal rights groups over "fake" video showing animal brutally skinned alive
Fur trade, worth $30 billion a year blames video for fashion fur bans
March 5th, 2019
The global fur trade is hitting back against claims that animals are skinned alive for their pelts to supply the fashion industry.
A team of top lawyers and media consultants has been hired to "explode the myth" that fur is taken from animals.
The 2009 video – seen below – went viral when it showed in excruciating detail a raccoon being skinned alive for its fur.
But investigators hired by the International Fur Federation (IFF) say they have unearthed damning evidence that the video was a stunt.
And they have released a documentary film exposing the culprits behind the major international conspiracy to destroy the reputation of the fur trade.
The documentary was produced by a retired senior producer for ITV news in the UK, who was responsible for some of the broadcaster's biggest undercover scoops in a 20 year career.
The gruesome 2009 footage, captioned, 'A shocking look inside Chinese fur farms' caused widespread public revulsion and led to fur being dropped from the catwalk by Gucci and Burberry.
Legislators have also used the footage to try to implement fur bans in various regions.
After years of silence on the controversial footage, the fur trade says it now has "irrefutable proof" that the barbaric act was staged by animal rights activists in a deliberate attempt damage the industry.
The IFF sent a team to China to investigate and the men who skinned the animal alive were tracked down to a rural area outside Beijing.
The IFF says the men confessed on video that they had been bribed by a woman, understood to be an animal rights activist, to carry out the horrific stunt.
The two men provided a lawyer with sworn affidavits which the IFF says is damning evidence of a conspiracy to damage their industry.
The two men, Ma Hong She and Su Feng Gang, were working in the Shancun fur market, a few hours drive from Beijing in 2009, when they were approached with a bribe.
 Mr Ma said: "We were working that day and a man, and a woman approached us.
"They had a camera and were filming.
"We asked what "are you doing?", and the woman said her grandfather had never seen a raccoon skinned alive.
"So, she asked if I would do it, and she'd like to film me doing so.
"I told her we can't do that because the animal might bite us.
"She said she'd buy us a good lunch, or she'd give us a few hundred Yuan to buy our own lunch.
"After we finished the skinning we felt uncomfortable. It was cruel for the animal.
"Even now, after so many years, every time I think about what we did it makes me uncomfortable.
"It is something we regret.
"This video was posted on-line. When we saw the video, we felt unwell just to realise that we had been used by these people.
"I worked in the skinning area for two years. We'd never skin animals alive, and I've never seen anyone skin an animal alive.
"When they came to us they enticed us to make this video and it has badly affected the fur market.
"We really hate them. They are fake animal protestors."
 Mr Su added:  "Mr Ma was my boss and he wanted me to skin the animal alive, but I said it was too cruel, and how much pain would the racoon feel.
"Ma said they'd give us a lot of money – so I did it.
"While I was skinning the raccoon, the woman was filming.
"The man went to another stall and was also filming.
"After a while Ma came to me and showed me the video, and I said, 'we have been used by these people'.
"When I realised they had shared the video on-line to everyone and knowing how it had hugely affected the fur industry, I hated them."
Mark Oaten, IFF CEO, said: "We have endured 13 years of lies and smears against our industry but we have finally ended this once and for all. We aim to explode the myth with irrefutable proof that the animal rights movement is behind a cynical stunt to discredit our industry.
"We even know the identity of the animal rights movement behind it and we will be exposing them in due course.
"We do not skin animals alive and animal rights activists are aware of this. This is why they have had to stoop to bribery and to try to damage our industry.
"We want to send a clear signal to anyone who seeks to deny consumers the freedom of choice by these quite wicked and frankly, twisted tactics – if we find you out, we are coming for you and we will expose you. And if you repeat this behaviour, we will sue you for damages.
"Our industry is no longer prepared to sit back and allow these fanatics to march into the boardrooms of designers and bandy around a rag-bag package of lies and prejudice about our business.
"My team has gathered a solid dossier and we look forward to challenging every animal rights group which uses it."
Note to newsdesk:
IFF documentary film here: https://www.youtube.com/watch?v=y8lZQnTbn-A&feature=youtu.be
Skinning alive video here:
https://www.youtube.com/watch?v=sLcgxIGTFRs&t=1s
PETA's use of skinning alive video here:
https://www.peta.org/videos/a-shocking-look-inside-chinese-fur-farms/
Possible sidebar
PETA has caused widespread outrage over the years with a series of controversial statements by CEO Ingrid Newkirk.
"Even if animal research 
resulted in a cure for AIDS,
we'd be against it," 
             —Ingrid Newkirk
"Eating meat is primitive, barbaric, and arrogant."
Washington City Paper, 1985December 20
"Six million people died in concentration camps, but six billion broiler chickens will die this year in slaughterhouses."
The Washington Post, 1983November 13
"That's what the Nazis did, isn't it? Treated those "others" they thought subhuman by making them lab subjects and so on. Even the Nazis didn't eat the objects of their derision."
"Mother Nature", The Observer2003June 22[4]
"I'm not only uninterested in having children. I am opposed to having children. Having a purebred human baby is like having a purebred dog; it is nothing but vanity, human vanity."
New Yorker magazine, April 232003
"While the final decision as to the use of my body remains with PETA, I make the following suggested directions:
a) That the 'meat' of my body, or a portion thereof, be used for a human barbecue, to remind the world that the meat of a corpse is all flesh, regardless of whether it comes from a human being or another animal and that flesh foods are not needed.
b) That my skin, or a portion thereof, be removed and made into leather products, such as purses, to remind the world that human skin and the skin of other animals is the same and that neither is 'fabric' or needed.
c) That my feet be removed and umbrella stands or other ornamentation be made from them, as a reminder of the depravity of killing innocent animals, such as elephants, in order that we might use their body parts for household items and decorations.
d) That my eyes be removed, mounted and delivered to the administrator of the Environmental Protection Agency as a reminder that Peta will continue to be watching the agency until it stops poisoning and torturing animals in useless and cruel experiments.
e) That my pointing finger be delivered to Kenneth Feld, the owner of Ringling Brothers or to a circus museum, to stand as the 'Greatest Accusation on Earth' on behalf of the countless animals who have been deprived of all that is natural and pleasant to them, abused and forced into involuntary servitude for the sake of cheap entertainment."
IngridNewkirk's will, quoted in "Mother Nature", The Observer2003June 22[5]
"In the end, I think it would be lovely if we stopped this whole notion of pets altogether."
Newsday, 1988February 21.
"Pet ownership is an absolutely abysmal situation brought about by human manipulation."
"We are complete press sluts."
"I know it's illegal [trespassing], but I don't think it's wrong."
Montgomery County, MD, Journal 1988February 16.
"I wish we all would get up and go into the labs and take the animals out or burn them down."
"National Animal Rights Convention", 1997June 27.
"Would I rather the research lab that tests animals is reduced to a bunch of cinders? Yes."
New York Daily News, 1997December 7.
"Our nonviolent tactics are not as effective. We ask nicely for years and get nothing. Someone makes a threat, and it works."
US News & World Report, 2002April 8.
ETA enjoys controversial publicity
stunts. Founder Ingrid Newkirk has 
been  arrested  at  least  20  times  in
connection  with  her  animal  rights
work,  and  has  openly  backed  the
Animal  Liberation  Front—the  most
overtly criminal animal rights group
in the world.
Newkirkherself told the New York Daily News: "I will be the last person to condemn ALF."
Newkirk's position is that the animal rights movement is a revolutionary one and that "thinkers may prepare revolutions, but bandits must carry them out".
Neville Thurlbeck
Director of Communications
International Fur Federation
m: 07836 255 770
o: 020 3766 0822
___________________________________________________________________REMIX 2019 – Results
February, 25 2019
REMIX, an international competition for young fashion and fur design talents, organised by the International Fur Federation (IFF) with the support of Vogue Talents, declared three winning designers last night during the annual award ceremony in Milan.
This year, IFF asked the competition's 10 finalists to create three fur garments that reflected the theme:
Responsibility, and Berivan Cemal, from the Netherlands, won the much-coveted REMIX Gold award.
Berivan received the Kopenhagen Furs (KF) sponsored prize, which includes a paid trip to Copenhagen for a weeklong stay at Kopenhagen Furs design studio where they will receive 25 premium quality Kopenhagen Fur Mink skins to use in a new style.
The jury composed of Sara Maino Sozzani (Deputy Director of Vogue Italy and Head of Vogue Talents), Gabriele Colangelo (Creative Director of Giada), Astrid Andersen (Danish Designer), Bryanboy (Fashion blogger, socialite and businessman), Samantha De Reviziis (sustainability expert and Founder of SDR Agency), have chosen Berivan as the winner of over 100 applications from all over the world.
The Silver Award from REMIX was won by Huseyin Ozer. Huseyin's creations were inspired by the stainedglass window of the Hagia Sophia will receive an all-expenses paid trip to Studio NAFA 2019 at their headquarters in Toronto, Canada.
Dong Wang from China won the Saga Furs award, they will receive an all-expense paid trip to Saga Furs Design Centre for a one week of fur innovation workshop.
All the winners of REMIX 2019 will have the chance to see their creations featured in IFF's upcoming fashion advertising campaign: FUR NOW, which will gain global visibility in key fashion media. As well as the opportunity to have an exclusive exposure on Vogue Italia and vogue.it.
Mark Oaten, CEO of IFF said: "REMIX gives the media and the fashion industry yearly a sneak peek on how young designers from all around the world continue to create and innovate using natural fur. We have a new socially and environmentally aware generation that is currently crafting the future and we are very proud to have young designers from over 23 countries this year applying to take part in REMIX eager to demonstrate how natural fur can be responsible. From upcycling, to sustaining communities and cultures, to vintage fur and ethical sourcing, the 10 finalists tonight presented not only a responsible collection but also a modern, youthful and vibrant one presenting their vision of the future of fur."».
Sara Sozzani Maino adds, "Remix is an opportunity for the next generation of designers to experiment with, and at the same time to pay attention to sustainability and work for a better future. The level of the students is always very high and it is interesting how each one's traditions and DNA evolve with the influence of what is happening in the world".
About The International Fur Federation (www.wearefur.com)
The International Fur Federation (www.wearefur.com) is the voice of the fur industry in the world. Founded more than 60 years ago, IFF protect the interests of the entire sector, promoting its innovation and the achievement of increasingly high quality standards. Today, IFF represents 55 national associations and fur organizations in 40 different countries. Its members represent the entire production chain of the sector:
from breeders, hunters, auction houses, leather merchants, tanners, stylists, garment makers, artisans, retailers.
SPECIAL THANKS TO:
AC HOTEL MILAN – BONAVEI
For more information
IC INSIGHT COMMUNICATIONS
Jasmine Spezie – Silvana Regazzoni
request@insightcommunications.cc
—————————————————————————————————————–
Latest News
Karl Lagerfeld: Visionary and Icon
February 20, 2019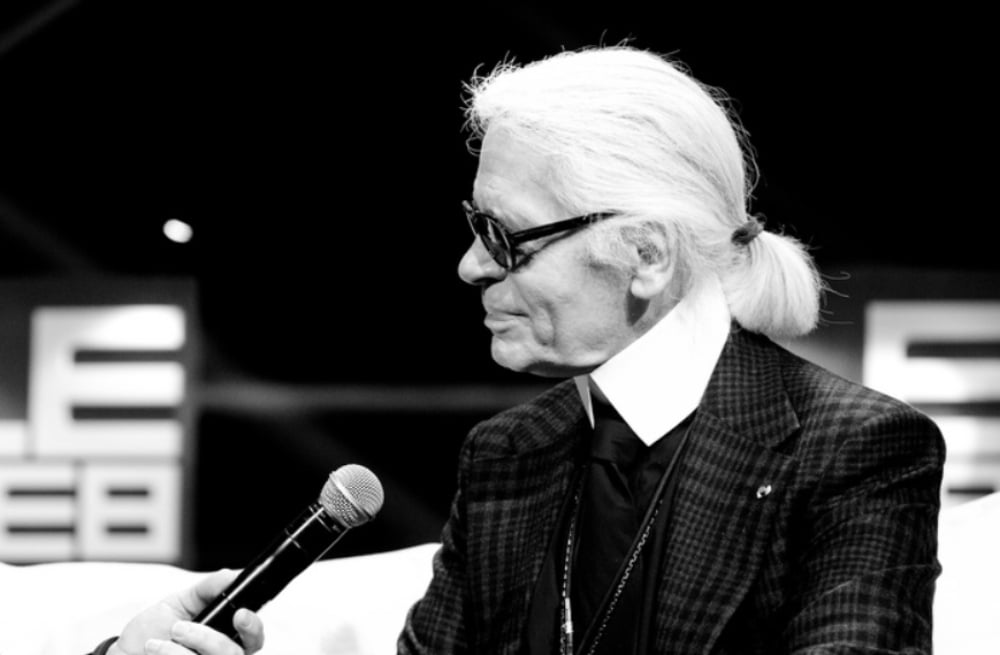 By furfashion
Yesterday, not only the fashion community, the entire world said goodbye to one of the greatest living cultural and creative powerhouses of the twentieth century: Karl Lagerfeld. Born in Hamburg, German, Lagerfeld was, foremost, the creative mind behind Fendi since the 1960s and Chanel since the 1980s, known for his bold and unapologetic designs and constant reinvention of the wheel – he was crowned by Vogue as the "unparalleled interpreter of the mood of the moment."
Starting his career with Yves Saint Laurent, before moving into an apprentice role with Pierre Balmain, Lagerfeld went on to create his own label as well as designing for Chloe and Fendi where he oversaw the companies infamous and longevous fur line. Lagerfeld was a fur advocate and admirer, using his appreciation for past and in-the-moment styles to create signature collections which is photographed up until his passing.
Photography was another passion of Lagerfeld's, by the time he enters the 80's, he was a fashion star with the press who often chronicled his life along with friend Andy Warhol. The eye behind the camera lens of many of his campaigns, Lagerfeld revived the nearly extinct fashion house Chanel at the start of the 90's introducing the infamous ready-to-wear collection which lives on in fashion history as one of the most iconic fashion moments – a decade the world will never forget.
Tributes poured in from supermodels of the past and present, designers whom Lagerfeld inspired and nurtured, and stars who revelled in his kind-hearted nature and wit. Lagerfeld's influence in fashion, photography, film and culture is a footprint too big to fill, he will never be replaced. In a sea of solemn tributes that flood the media, none can sum up his unrivalled contribution to the way we, and in particular women, view fashion and themselves. The fur industry today mourns a great friend whom saw in natural fur the magical wonder it is and crafted masterpieces inspiring generations to come to never be afraid of criticism and stand-up for your beliefs.
Karl Lagerfeld's work and legacy will live on forever. He was and will always be a visionary and icon.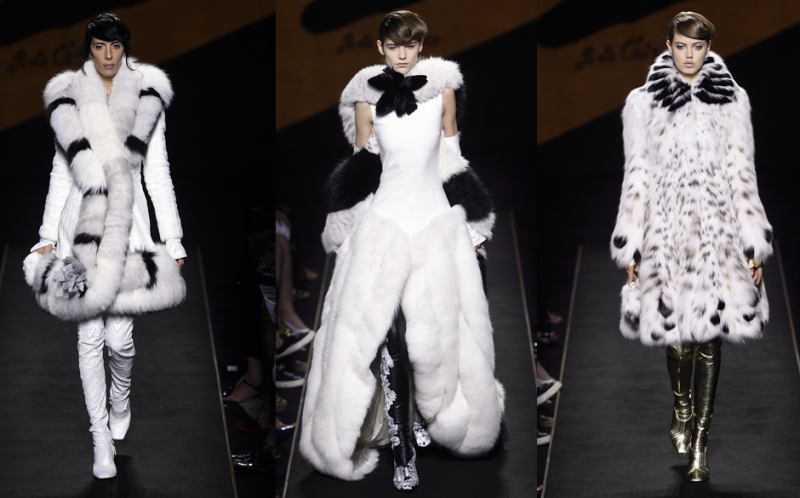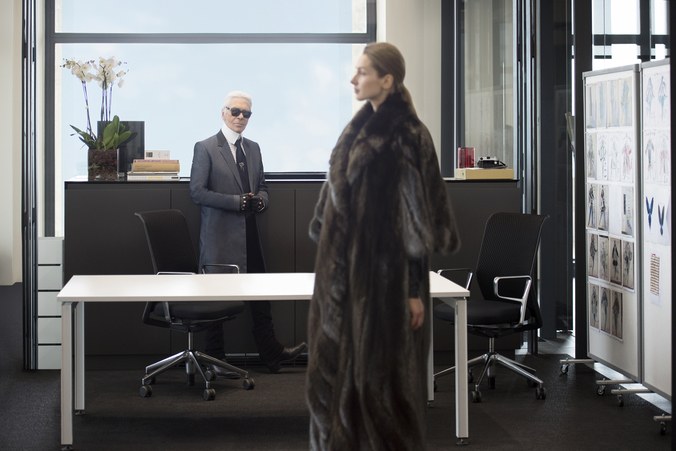 Karl Lagerfeld, in his Paris studio with a model in a Haute Fourrer coat. Courtessy of Fendi Furs
---
New website on Sustainability
February 7, 2019
A new website has been launched by Fur Europe. To learn about the sustainability of fur see here: www.sustainablefur.com
——————————————————————————————————————–
2019 Kicks off with a bang, and fur! London Men's Fashion Week wrapped up…
London Men's Fashion Week has been a success, with three brands using fur in their collections. All three brands had something in common, that being a combination of two ideas interwoven to form each individual collection into something unique, modern, and aesthetically remarkable. Colour scheme was also similar, as each collection had neutral tones dominating the runway, with carefully chosen pops of vivid colour to stand out from normality of the everyday.
Edward Crutchley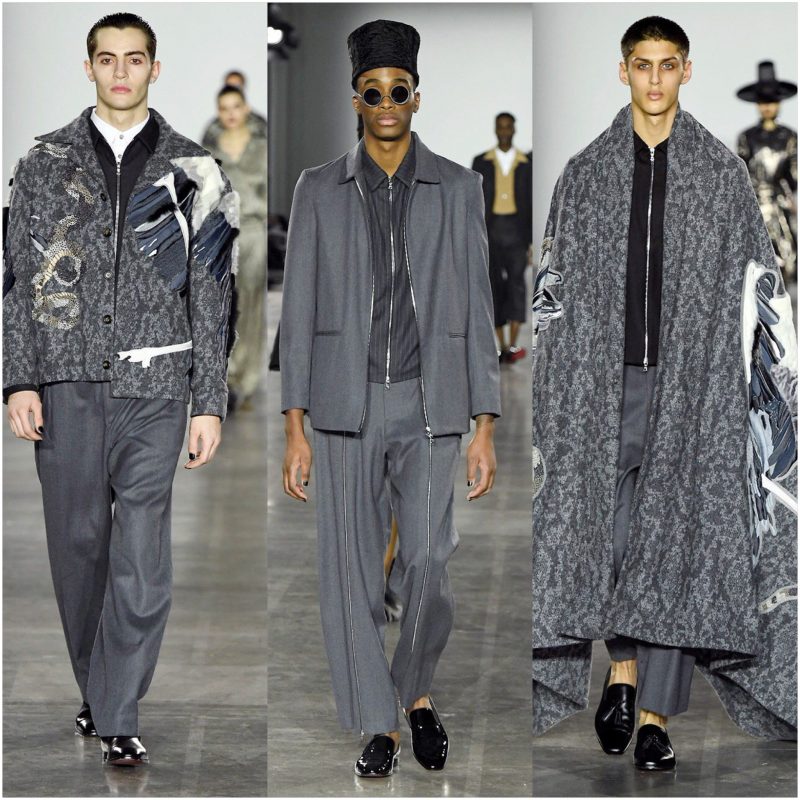 Has Edward Crutchley made formalwear fancy? His new fall 2019 collection seems to suggest so, as the 'grown-up' look appears to be classic, rooted and radiating with sophistication, moving away from his sporty aesthetic – taking inspiration from both professional dress and by Grace Jonesin A View to a Kill. His styles are accompanied with silhouettes of flowy styled trousers and long fitted blazers, where there is a continuous use of neutral colours throughout the collection. Different tones of green also make appearances, where one outstanding piece comes in the form of duck slippers to mimic Edward Crutchley's humorous and witty side. Green was a consistent colour that accompanied the neutral colours that came in hints of fascinating patterns and prints to break the cycle of what isn't normally spotted in your everyday office.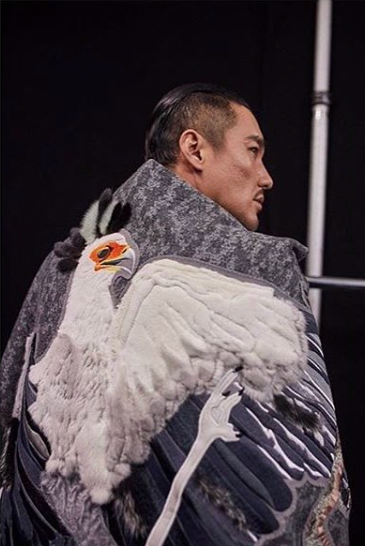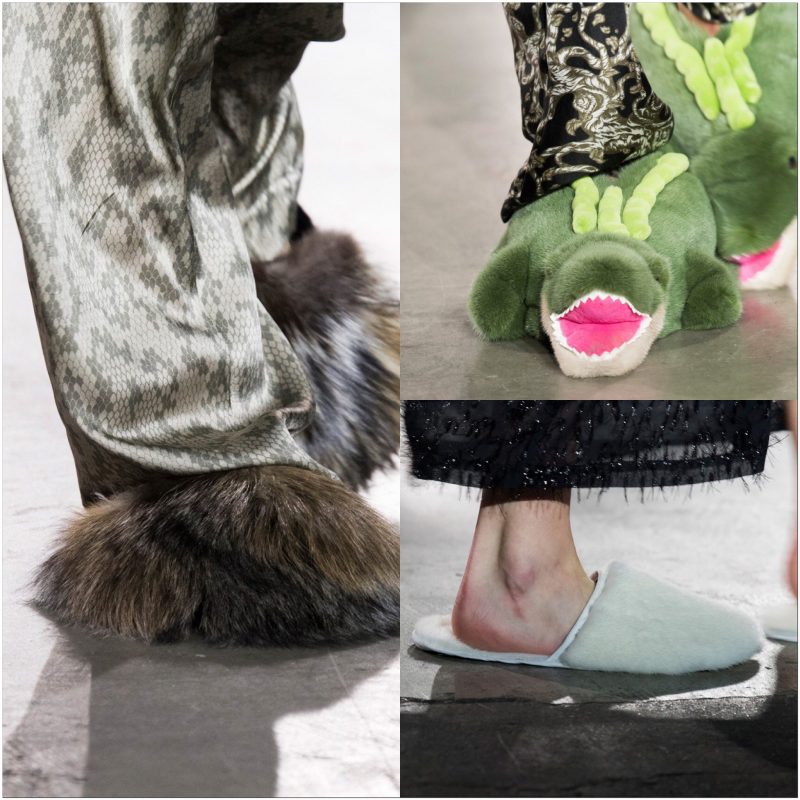 Edward Crutchley intertwined womenswear in his men's collection, both sharing materials ranging from opulent cashmere knits, heavenly velvet and of course, rich fur. He took inspiration from Grace Joneswho played May Day, in A View to a Killwith the pillow box hat, and powerful female connotation (which is increasingly becoming popular in fashion) where both menswear and womenswear are seen to interconnect, and the idea that women are possessing the same qualities as men. Fur is something that is ostensive in his collection, coming in swakara, fox and shaved mink. Edward Crutchley's recent love for formal-dress has been translated into fur loves, ranging from voguish yet glamorous pillow box hats, blazers, and stealing-the-show slippers. The hints of fur during this AW19 has certainly alluded to the idea that formal wear can be seen as stylish and sleek and doesn't need to be taken so seriously, and this is further grasped as Edward Crutchley exhibited a cape that features a fur-embroidered bird, combining a sensible collection with something playful and remarkable.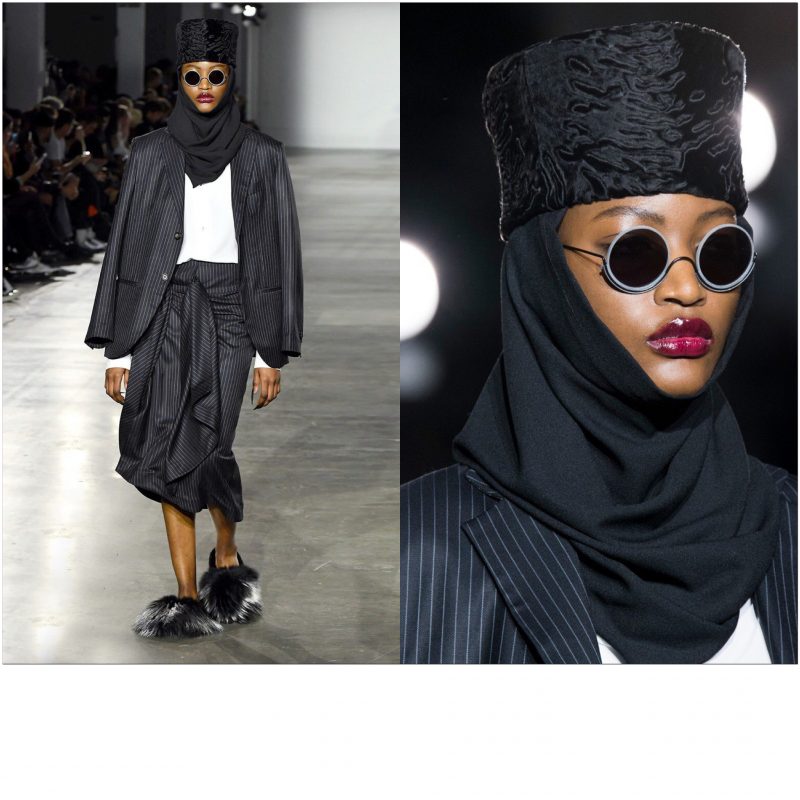 Astrid Andersen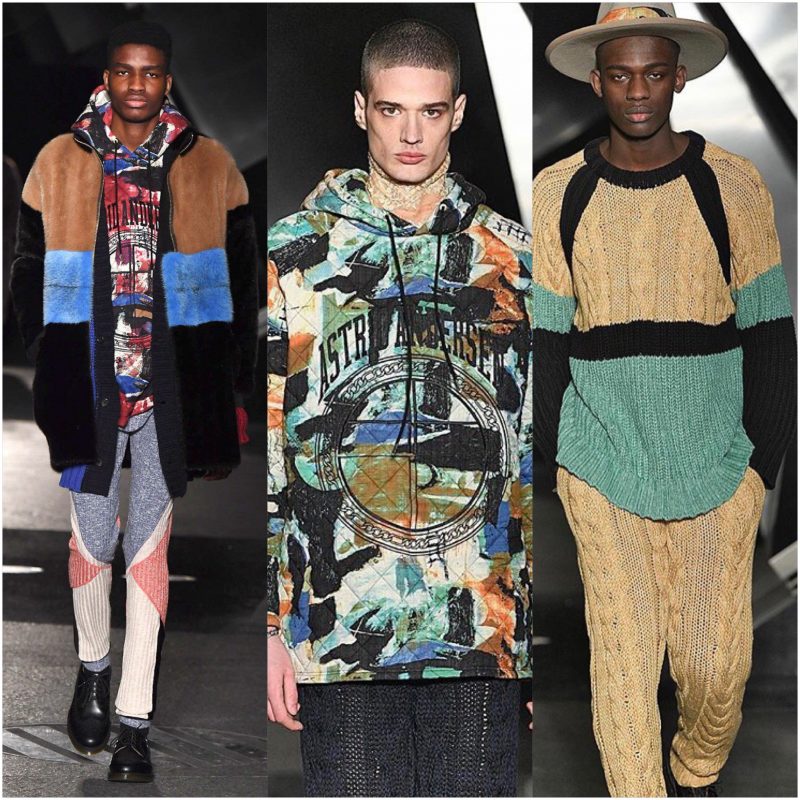 Street meets classic couture. Astrid Andersen has melded the idea of streetwear and classic-wear as the ideas of street and catwalk have become distorted, leaving what was once a clear differentiation in styles, rather similar in essence. She has combined the two and formed her AW19 collection, featuring knits and furs, alongside an explosion of stripe silhouettes and hand-painted prints.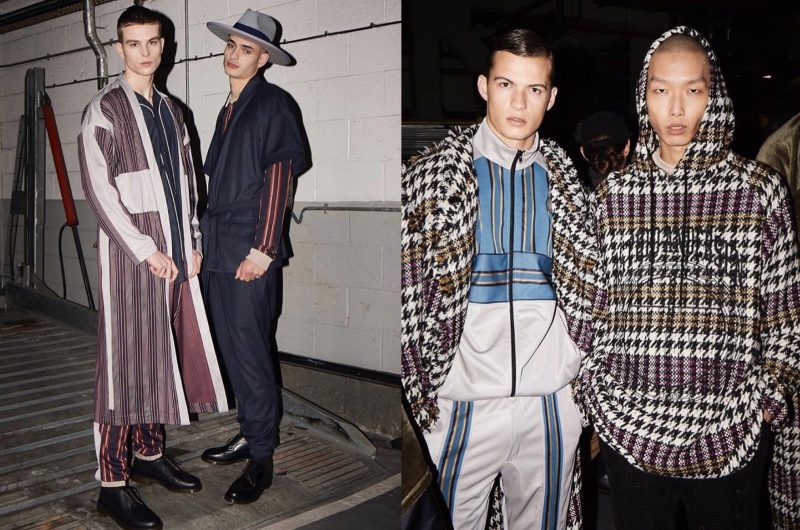 Astrid Anderson brought the furs this AW19 with multiple fur coats. Fur garments were seen subjugating the runway, all which lifted the classic puffer coat, into new heights of luxury, and lavishness. Anderson created a duvet effect with the fur puffer jackets, a style sensation which has become a distinguishing feature in her work. All were either fairly lengthy or came down to the hip, with colour palettes taking on black, brown and grey-silver tones.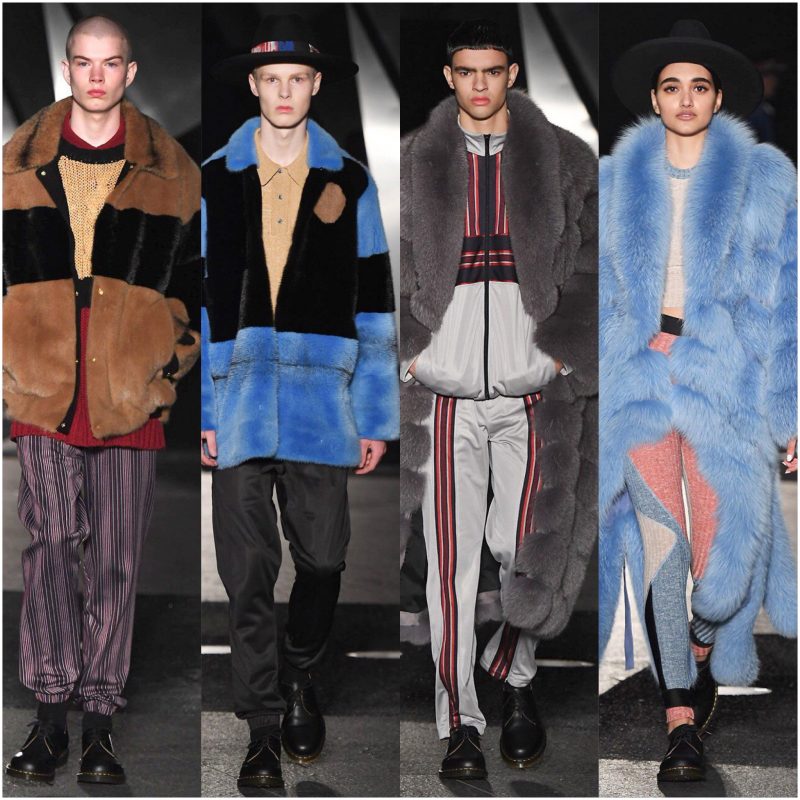 These colours were paired with splashes of blue, red and green to create an appealing visionary of tracksuit bottoms, 'pyjama' striped shirts and bottoms, and knit co-ords. Andersen's carefree attitude converted into her range, as these silhouettes had an element of 'street' within them, which in turn, combined with the formal-wear, established an inevitable pairing. What appeared apparent in both Edward Crutchley's and Astrid Andersen's collection was the fusion of formal wear, with a different element and the production of a collection that has essentially been formed with the movement of the times.
Belstaff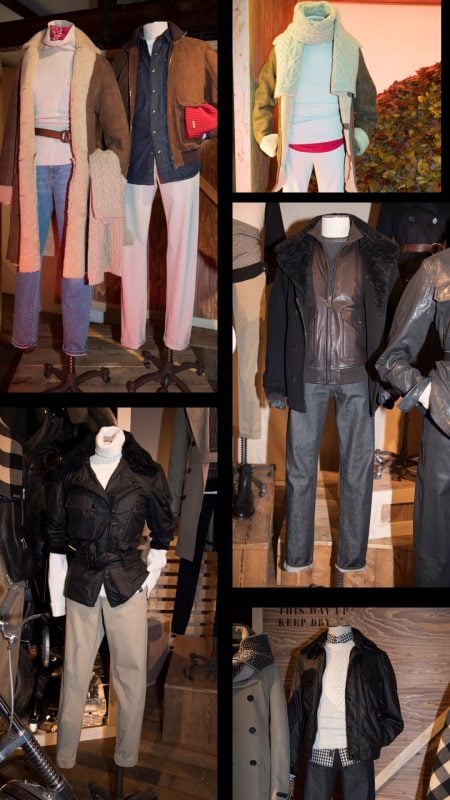 Sean Lehnhardt-Moore decided to dig into Belstaff's roots and British tradition when creating his first collection. The brand is notoriously recognised for their superior clothing, and that has been rendered within his AW19 designs. What was evident was that Sean Lehnhardt-Moore's first-time collection with the brand was a development, rather than a transformation of the brand.
The silhouettes that were tailored onto the mannequins came in styles of coats and jackets, and a widespread selection of knitwear, leather and of course fur. The exemplary look was interpreted to leather, and puffer jackets with fur collars, shearling jackets, with some doses of red to disrupt the ongoing colours of brown and black. This essentially accentuated the brand's original durability, and robustness of the collection. It carries on with the progression of Belstaff yet keeps the fundamental notion of the brand still intact.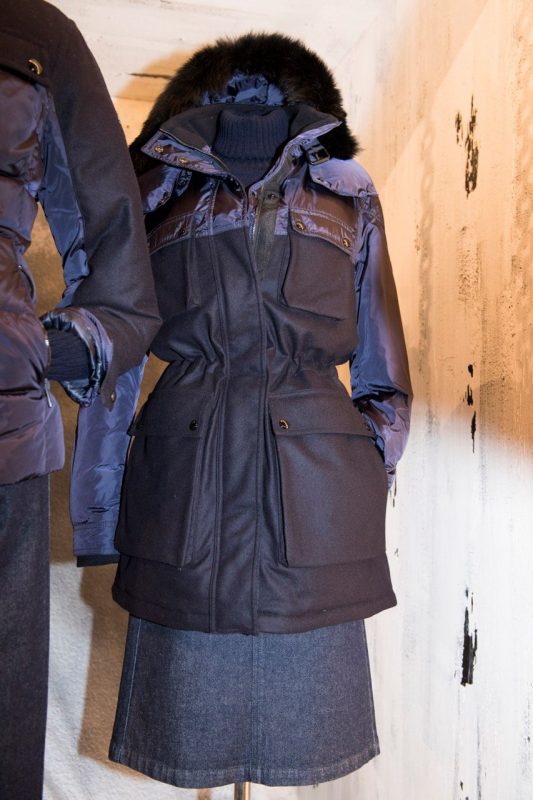 What was equally apparent in this collection were the accessories that accompanied some of the jackets. Wool scarves, kilts, and knits with opposing weaves were the accessories that Sean Lehnhardt-Moore wanted to express with. The collection also features capes that are accessible for women, taking the same stance as Edward Crutchley, allowing men and women to interconnect and blur the line between womenswear and menswear.
All three brands had similarities in terms of colour palette, the central message of the brand, and the overall theme. Whether that be the classic look versus a reoccurring theme with everyday life, or the intertwining of female fashion – all three appeared to convey a message that going into the future, themes and topics of everyday life in 2019 will play a big part in fashion, and that fur will be a significant component that will help to convey that message.
______________________________________________________________________________
International Fur Federation (IFF) CEO Mark Oaten, commenting on the news of the brand DVF going fur free:
'Diane Von Furstenberg is a designer we admire hugely. Yet today, she joins the ranks of brands giving in to pressure and intimidation from groups like PETA. Their extremist views see them making outrageous statements. They veto the use of animal testing even if it could cure HIV, and have revoltingly compared the chicken food industry to the Jewish holocaust.
Giving up fur because of the 'environmental impact of farmed fur' makes absolutely no sense. Farmed fur is one of the most sustainable circular practices in the fashion world. Fur farming, apart from the beautiful fashion it produces, generates fertilizers, bio diesel fuels and oils for a host of industries including but not limited to the beauty and cosmetics industry. We would love to invite Diane to visit a fur farm to see all of this for herself.
It is widely misleading, ill-informed and outdated to claim that fur farming only plays into vanity and fashion.  
Diane should be more concerned about fake fur, the 'sophisticated alternative' she will now use which is made of plastic and synthetics and never biodegrades. It contributes to the fashion industry being the second most polluting industry in the world, after the oil industry, which is also a key component in fake fur!
It is time for designers who join the anti-fur 'trend' to be honest and upfront with their consumers and the media. Let's put a stop to these cynical PR frenzies and call out those designers who give up fur to secure column inches whilst continuing to work with snake and alligator skin as well as other animal materials that are actually less sustainable than fur.
The International Fur Federation only supports ethically and sustainably sourced fur; we work tirelessly to continue to tighten regulations and promote transparency.
Now is the time for brands and designers to be straight with consumers. Boycotting fur is no more than a cheap publicity stunt. Honest brands and designers should put their customers' freedom of choice first and foremost.
——————————————————————————————————————-
International Fur Federation response to Burberry fur ban
Thursday 6th September 2018
Mark Oaten, CEO of the International Fur Federation, representing the fur trade worldwide, said: "For many years we have been proud to work with Burberry and provide them with high quality natural furs.
"We understand and support their initiative to minimise waste and how they are dealing with the stock burning issue in order to be more environmentally friendly.
"However their decision to phase out fur is disappointing and contradicts their statement of, 'luxury being environmentally responsible'.
"Substituting natural fur with plastic petroleum-based materials, like fake fur, is in no shape or form neither luxury nor responsible and sustainable.
"Using plastic fake fur in fashion is not sustainable and ends up damaging the oceans, the environment and the entire ecosystem.
"Any fashion business with a commitment to sustainability should be using natural products such as wool, cotton, leather, silk and natural fur.
"Fur is farmed to the very highest standards, it is sustainable and many designers and brands continue to work with it.
"We think Burberry should allow its customers freedom of choice in purchasing natural or plastics."
—————————————————————————————————————-
Labour shadow minister ignites anti-Semitism row over "swastika" jibe at Jewish businesses
Tuesday 5th June 2018
A LABOUR shadow minister has reignited the row over left-wing anti-Semitism by accusing the Jewish dominated fur trade of selling products as repulsive as "swastikas".
Corbynite David Drew, Shadow Minister for Environment, Food and Rural Affairs, was addressing MPs about the future of the retail fur trade in the UK.
Mr Drew, a long standing vegetarian, waded into the debate with comments which have caused huge offence within the Jewish community.
He told MPs: "I do not understand not only why we cannot lean on the retail trade, but why people wear fur—to me, it is the same as wearing a swastika."
Leading Jewish businessmen and women, many who lost relatives in the Holocaust, were quick to condemn the Nazi comparison and are demanding an apology.
Frank Zilberkweit, who owns London-based Polar Furs, said: "Mr Drew will be fully aware as part of his brief as Shadow Minister for Environment, Food and Rural Affairs, that the fur trade in the UK is dominated by businesses run by Jewish families.
"It was grossly insensitive and anti-Semitic to try to attack our legitimate industry by comparing it to the sale of swastikas.
"For my family and many others in the fur trade, the swastika is an emblem of extermination and heartache.
"To introduce it into a debate about our business is an underhanded and distasteful tactic. The British Fur Trade has always been open to discussions about best practice with animal welfare – to denigrate our industry in this manner is entirely uncalled for.
Mr Zilberkweit, 69, is a fifth generation Jewish furrier and has been in charge of the family firm for 50 years.
His father and uncle fled Leipzig, Germany, in the 1930s to escape the Nazis, who rounded up many of their friends before herding them into death camps.
Mr Zilberkweit, a former chairman of the British Fur Trade Association, added: "Mr Drew must have known this would inflict a painful blow on our community and we utterly deplore his comments and request he withdraw them and apologise.
"There is widespread offence right across our industry. It is not only Jews who are offended. There are our customers too. Everyone who walks into Harrods or Canada Goose to buy a fur has now just been labelled a Nazi by a Labour frontbencher."
Drew, 66, is on the hard left of the party, where anti-Semitism is rife. He is a member of the far left Socialist Campaign Group and backed Marxist John McDonnell in the 2007 Labour leadership election.
His comments were made on Monday (June 4) to MPs debating a petition entitled "Ban the sale of animal fur in the UK".
Fur farming was banned completely in the UK in 2002. But earlier this year, the government said it had no intention of banning fur imports or sales in the UK.
Last night, Mr Drew issued an apology, saying: "I am sorry for drawing this comparison. I am passionate about animal welfare but this comparison was inappropriate and I apologise."
Jeremy Corbyn's office was asked for a comment but did not respond.
Ends
For Mr Drew's comments, see here:
https://hansard.parliament.uk/Commons/2018-06-04/debates/8F9B6212-E631-4151-ABA7-AED8560CBBEB/FurTrade?highlight=Swastika#contribution-3C6ED86E-C83A-4217-956B-0DDDD66B19BE
Contact details:
Mike Moser| CEO | 
British Fur Trade Association
——————————————————————————————————————–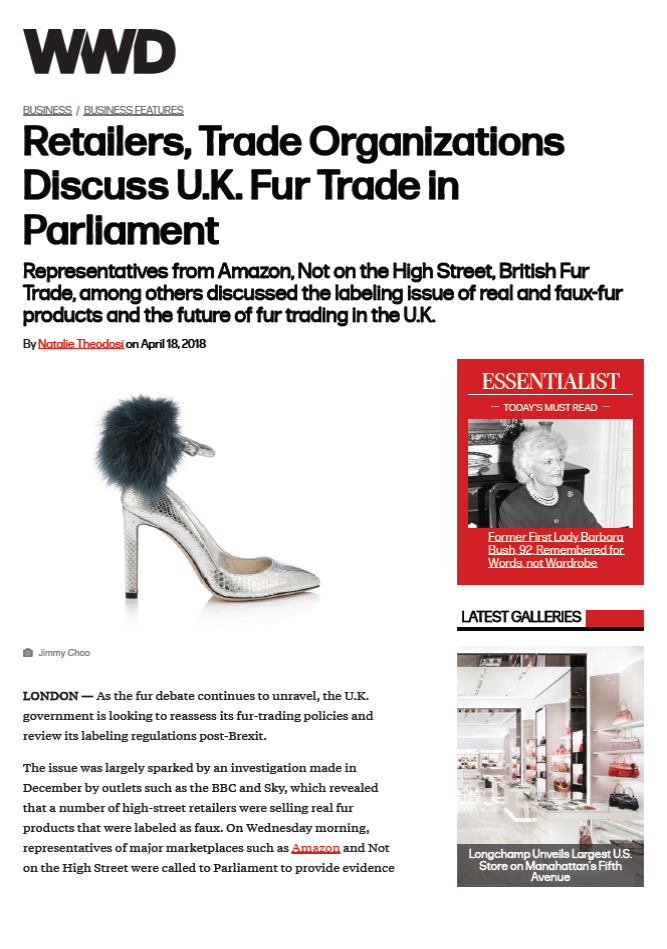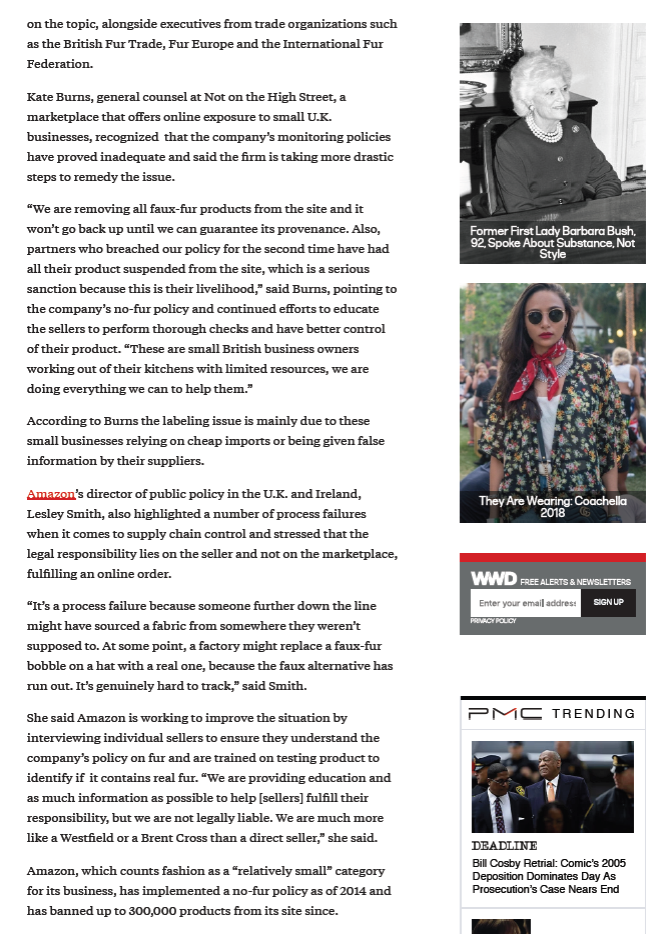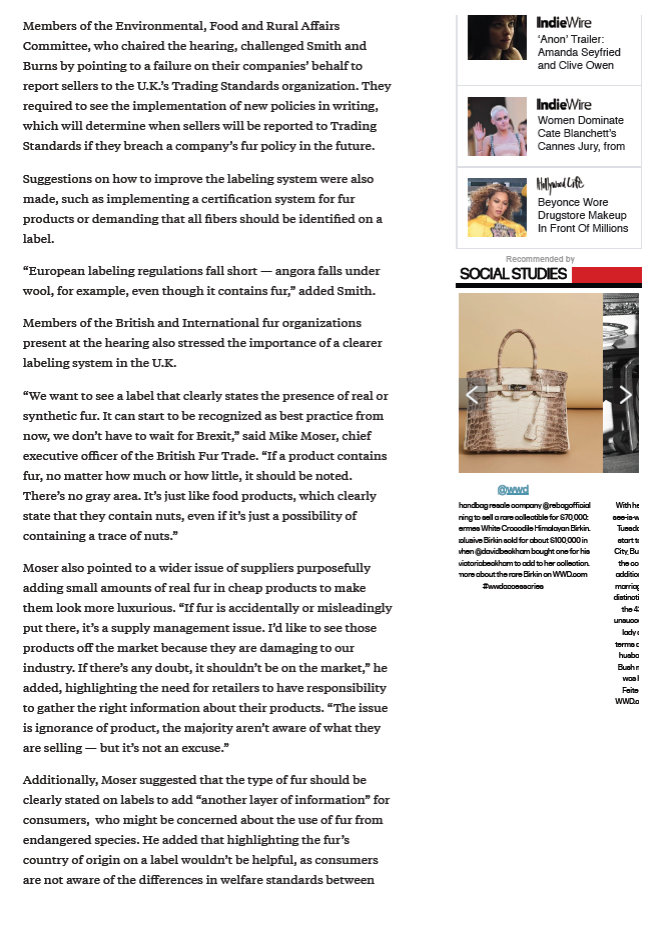 ——————————————————————————————————————
BRITAIN'S FUR INDUSTRY BITES BACK
The British Fur Trade is mounting a robust defense of the industry ahead of a U.K. parliamentary hearing set for April 18.
——————————————————————————————————————–
Does Gucci really want to choke the world with plastic fur?
October 16, 2017
 By International Fur Federation CEO, Mark Oaten
 Fashion brand Gucci has announced plans to go fur-free from 2018 and will instead be looking into alternatives, including fake plastic fur.
Now, I'm the last person to prevent a business or individual from making up their own mind about fur and employing freedom of choice (a stance sadly not shared by the bullies and closed-minded activists of PETA and the like), but I find this move rather mystifying because of the main argument used.
Specifically, chief executive Marco Bizzarri said the move was due to the brand's commitment to 'sustainability'.
I of course applaud such a viewpoint. But in this case, unfortunately, it's utterly misguided. The truth is that banning real fur makes absolutely no sense in terms of sustainability. Petrol-based fake plastic fur is extremely harmful to the environment, isn't biodegradable and negatively impacts wildlife thanks to the petroleum and plastics used to produce it.
By comparison, real fur can last for generations compared to the synthetic, environmentally-damaging alternatives. Fur garments can be kept for decades and are completely biodegradable when they are eventually discarded. Plastic fakes on the other hand are thrown away regularly and end up polluting landfills.
That's hardly the type of behaviour to appeal to environmentally-conscious millennials.
Frankly, it's both surprising and disappointing that a major fashion brand would want to "do better for the environment" by seriously considering working with plastic fur. Bear in mind as well that when you wash those items, hundreds of thousands of tiny plastic lint fibres are released into waste water, end up in oceans and get eaten by fish, mammals and sea birds.
At the same time, Mr Bizzarri's other comments left me rather bemused. For one, saying that fur is "not modern" is unfounded. More than two-thirds of recent international catwalks featured fur in fresh and exciting forms. Real fur can be cut, dyed and crafted in ways that synthetic, petrol-based plastic fur can only dream of.
He also said that Gucci was planning to auction off its remaining fur supplies and give the profits to animal rights groups. If buying fur is as unethical as he seems to think, one wonders who he expects to bid on it?
The truth is that many top designers continue to use the natural material, and the IFF is working with the most respected fashion houses in the world to develop boundary-pushing techniques to create haute couture and every day fashion. It also ensures the fur industry worldwide produces the most sustainable, ethically-sourced pelts possible.
And lest we forget, if sustainability is indeed the name of the game, the sale of wild fur both provides vital income for remote indigenous communities and helps toward managing their local environments. In addition, farmed fur animals eat food prepared from the waste products of the meat, fish and dairy processing industries – a much more sustainable and ethical alternative to dumping this excess.
Waste from fur farms can produce other environmental benefits too. These include the production of biofuel to reduce the demand for fossil fuels and the production of agricultural fertilisers to replace high-energy manufactured ones. Fur farming also has some of the most stringent controls for animal welfare found in any industry worldwide.
So if sustainability is the goal, don't be fooled into thinking negatively about fur. We will always welcome Gucci back to fur in the future, and hope that it and all other fashion brands see that real fur is the only truly sustainable option.
---
Statement From Saga Furs on Arctic Foxes from Finnish Fur Farms
September, 25th  2017
Statement from Saga Furs following recent coverage in the media regarding Arctic Foxes from Finnish Farms.
"We have seen the video in question and, while not commenting on its authenticity, have reached out to all certified farmers to ensure the animals are cared for with the best possible standards.
Saga Furs does not accept the breeding of oversized foxes nor any mistreatment of animals.
The four farms reportedly filmed in the video were immediately inspected and no suggestion of such foxes as in the video were found, nor mistreatment of the animals.
After the release of the video, Saga Furs has increased resources in counselling and supervision.
To ensure the leading position in animal welfare, the industry has engaged additional veterinarians and the cooperation with the authorities has been intensified.
We would like to highlight that the vast majority of farmers take very good care of their animals.
For 12 years, Saga Furs have had a certification scheme in place. The certification requires that all farms are inspected regularly by 3rd party independent auditing companies and both Finnish and EU authorities – several times a year. The farm certification system requires higher animal welfare standards above those recommended by the European Union, and the standards are much more stricter than in the meat industry, for example.
Saga Furs promotes further improvement in animal welfare and, within the limits of its authority, intervenes if any deficiencies emerge. Long-term cooperation to develop animal welfare with both Finnish and international fur animal breeder associations is a special topic in which success will have an impact well into the future. One example of this is the WelFur assessment, which is already in use at Saga Furs, but will be taken into use European wide from 2020.
In addition to certification, we recognise the importance of animal welfare and breeding conditions. Saga Furs reserves the right to abstain from selling or grading pelts that do not comply with current legislation or standards of fur farming or that come from areas that do not have such legislation or standards. The company monitors that these conditions are met, and if it finds pelts in its own sales or grading selections that do not meet Saga Furs' criteria, these pelts will be removed.
Saga Furs recognises that a high level of animal health and welfare is a prerequisite for the entire future of the fur industry."