Labour shadow minister ignites anti-Semitism row over "swastika" jibe at Jewish businesses
Tuesday 5th June 2018
A LABOUR shadow minister has reignited the row over left-wing anti-Semitism by accusing the Jewish dominated fur trade of selling products as repulsive as "swastikas".
Corbynite David Drew, Shadow Minister for Environment, Food and Rural Affairs, was addressing MPs about the future of the retail fur trade in the UK.
Mr Drew, a long standing vegetarian, waded into the debate with comments which have caused huge offence within the Jewish community.
He told MPs: "I do not understand not only why we cannot lean on the retail trade, but why people wear fur—to me, it is the same as wearing a swastika."
Leading Jewish businessmen and women, many who lost relatives in the Holocaust, were quick to condemn the Nazi comparison and are demanding an apology.
Frank Zilberkweit, who owns London-based Polar Furs, said: "Mr Drew will be fully aware as part of his brief as Shadow Minister for Environment, Food and Rural Affairs, that the fur trade in the UK is dominated by businesses run by Jewish families.
"It was grossly insensitive and anti-Semitic to try to attack our legitimate industry by comparing it to the sale of swastikas.
"For my family and many others in the fur trade, the swastika is an emblem of extermination and heartache.
"To introduce it into a debate about our business is an underhanded and distasteful tactic. The British Fur Trade has always been open to discussions about best practice with animal welfare – to denigrate our industry in this manner is entirely uncalled for.
Mr Zilberkweit, 69, is a fifth generation Jewish furrier and has been in charge of the family firm for 50 years.
His father and uncle fled Leipzig, Germany, in the 1930s to escape the Nazis, who rounded up many of their friends before herding them into death camps.
Mr Zilberkweit, a former chairman of the British Fur Trade Association, added: "Mr Drew must have known this would inflict a painful blow on our community and we utterly deplore his comments and request he withdraw them and apologise.
"There is widespread offence right across our industry. It is not only Jews who are offended. There are our customers too. Everyone who walks into Harrods or Canada Goose to buy a fur has now just been labelled a Nazi by a Labour frontbencher."
Drew, 66, is on the hard left of the party, where anti-Semitism is rife. He is a member of the far left Socialist Campaign Group and backed Marxist John McDonnell in the 2007 Labour leadership election.
His comments were made on Monday (June 4) to MPs debating a petition entitled "Ban the sale of animal fur in the UK".
Fur farming was banned completely in the UK in 2002. But earlier this year, the government said it had no intention of banning fur imports or sales in the UK.
Last night, Mr Drew issued an apology, saying: "I am sorry for drawing this comparison. I am passionate about animal welfare but this comparison was inappropriate and I apologise."
Jeremy Corbyn's office was asked for a comment but did not respond.
Ends
For Mr Drew's comments, see here:
https://hansard.parliament.uk/Commons/2018-06-04/debates/8F9B6212-E631-4151-ABA7-AED8560CBBEB/FurTrade?highlight=Swastika#contribution-3C6ED86E-C83A-4217-956B-0DDDD66B19BE
Contact details:
Mike Moser| CEO | 
British Fur Trade Association
——————————————————————————————————————–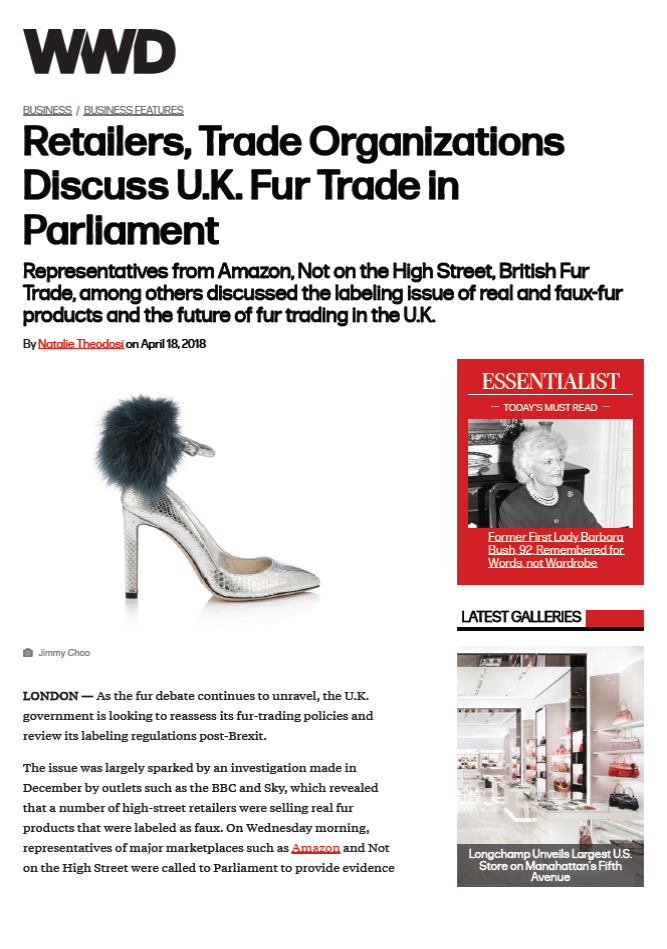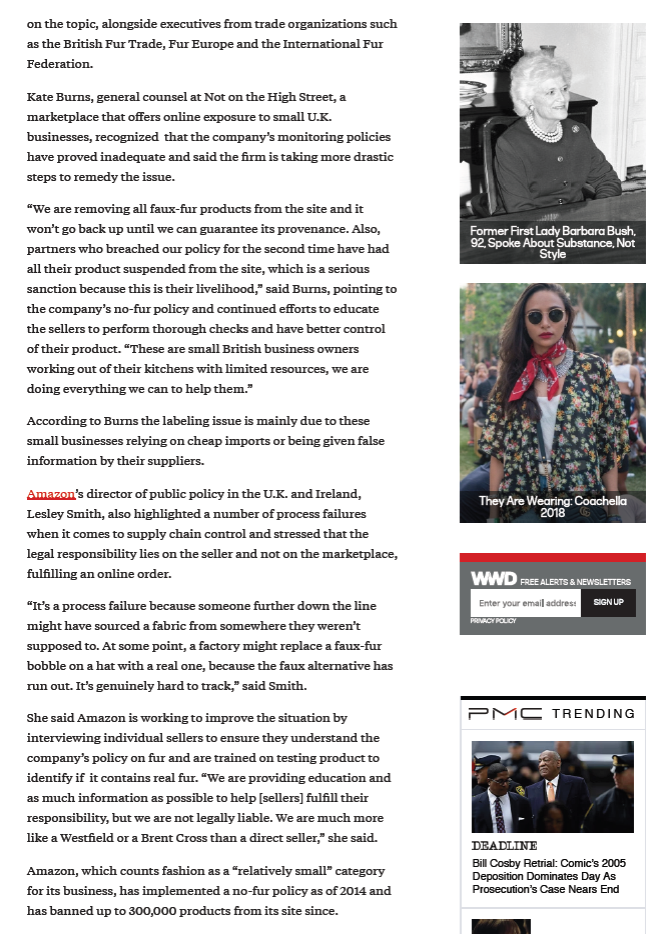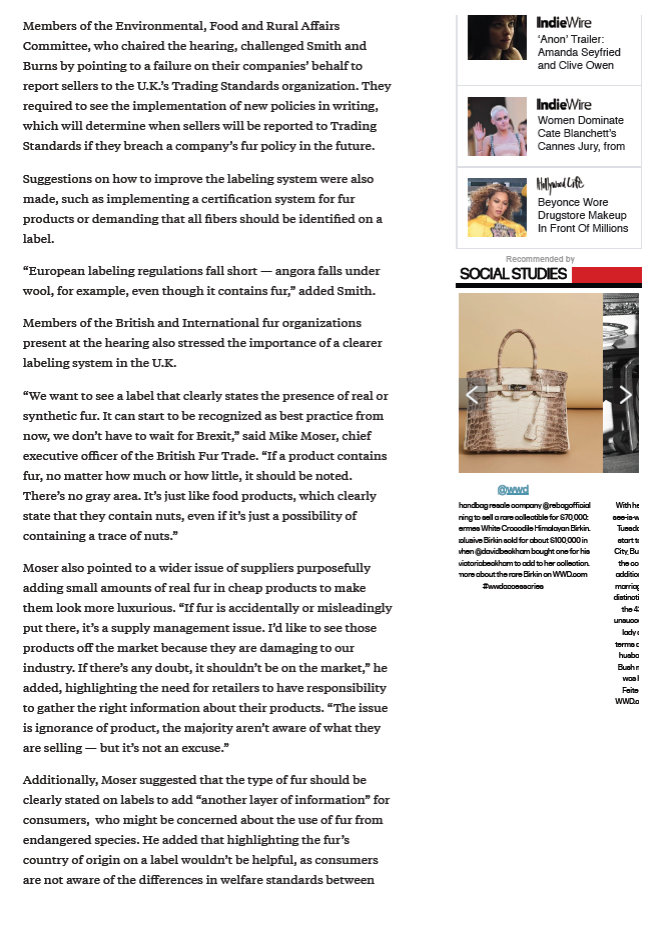 ——————————————————————————————————————
BRITAIN'S FUR INDUSTRY BITES BACK
The British Fur Trade is mounting a robust defense of the industry ahead of a U.K. parliamentary hearing set for April 18.
——————————————————————————————————————–
Does Gucci really want to choke the world with plastic fur?
October 16, 2017
 By International Fur Federation CEO, Mark Oaten
 Fashion brand Gucci has announced plans to go fur-free from 2018 and will instead be looking into alternatives, including fake plastic fur.
Now, I'm the last person to prevent a business or individual from making up their own mind about fur and employing freedom of choice (a stance sadly not shared by the bullies and closed-minded activists of PETA and the like), but I find this move rather mystifying because of the main argument used.
Specifically, chief executive Marco Bizzarri said the move was due to the brand's commitment to 'sustainability'.
I of course applaud such a viewpoint. But in this case, unfortunately, it's utterly misguided. The truth is that banning real fur makes absolutely no sense in terms of sustainability. Petrol-based fake plastic fur is extremely harmful to the environment, isn't biodegradable and negatively impacts wildlife thanks to the petroleum and plastics used to produce it.
By comparison, real fur can last for generations compared to the synthetic, environmentally-damaging alternatives. Fur garments can be kept for decades and are completely biodegradable when they are eventually discarded. Plastic fakes on the other hand are thrown away regularly and end up polluting landfills.
That's hardly the type of behaviour to appeal to environmentally-conscious millennials.
Frankly, it's both surprising and disappointing that a major fashion brand would want to "do better for the environment" by seriously considering working with plastic fur. Bear in mind as well that when you wash those items, hundreds of thousands of tiny plastic lint fibres are released into waste water, end up in oceans and get eaten by fish, mammals and sea birds.
At the same time, Mr Bizzarri's other comments left me rather bemused. For one, saying that fur is "not modern" is unfounded. More than two-thirds of recent international catwalks featured fur in fresh and exciting forms. Real fur can be cut, dyed and crafted in ways that synthetic, petrol-based plastic fur can only dream of.
He also said that Gucci was planning to auction off its remaining fur supplies and give the profits to animal rights groups. If buying fur is as unethical as he seems to think, one wonders who he expects to bid on it?
The truth is that many top designers continue to use the natural material, and the IFF is working with the most respected fashion houses in the world to develop boundary-pushing techniques to create haute couture and every day fashion. It also ensures the fur industry worldwide produces the most sustainable, ethically-sourced pelts possible.
And lest we forget, if sustainability is indeed the name of the game, the sale of wild fur both provides vital income for remote indigenous communities and helps toward managing their local environments. In addition, farmed fur animals eat food prepared from the waste products of the meat, fish and dairy processing industries – a much more sustainable and ethical alternative to dumping this excess.
Waste from fur farms can produce other environmental benefits too. These include the production of biofuel to reduce the demand for fossil fuels and the production of agricultural fertilisers to replace high-energy manufactured ones. Fur farming also has some of the most stringent controls for animal welfare found in any industry worldwide.
So if sustainability is the goal, don't be fooled into thinking negatively about fur. We will always welcome Gucci back to fur in the future, and hope that it and all other fashion brands see that real fur is the only truly sustainable option.