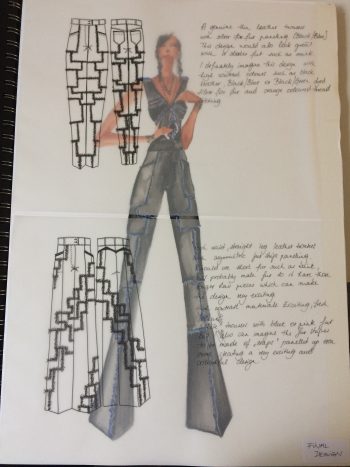 Eliza Cseri
Third Prize Winner
Eliza is a first year BA (Hons) Fashion student at Huddersfield University
"Well, the first time I ever hear of this competition I was hesitating at first, as I wasn't sure how my family, friends and university colleges will react and it's all for a simple reason, which is not enough knowledge about fur and the fur industry. On the top of this I was also concerned as at the end of the day I am only a first year student and there will be students way better then me, way more experienced then me as they final year students or other individuals who are potentially doing their master. So I reached out to my tutor and some of my friends for advice, but I ended up following my own heart.
 I had a feeling inside me deep within and I just flow with it. My motivation and inspiration was to show people, even the whole world that this is not a bad thing. This is an amazing and exciting industry, where when you work with fur it's like watching a butterfly to form. It's not about animal cruelty, it's the opposite. It's about animal welfare. Back in my own history when Attila the Hun was conquering Europe, they were using fur and leather as secondary product from hunting so they can survive.
My main inspiration was Attila the Hun. I wanted to design high end outfits which inspired, influenced by my own history.
My focus group was the middle aged, professional and successful women, who can do what ever she wants, whenever she wants. She is sexy, successful and rich with an outstanding , unique but very feminine taste.