The workshop "Network of Retailers" took place early February in Amsterdam, The Netherlands. The event brought together 27 representatives from across Europe from 16 European countries who all work within the fur value chain, from farm to fashion. Most of the participants were retailers or wholesalers, but the event also attracted representatives from farming and marketing departments.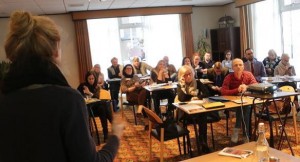 The aim of the event was to strengthen the network and cooperation, develop new ideas evolving around issues like online trade, certification, sustainability and ethics and to generate in-depth discussions of fur retail and fashion issues in Fur Europe member countries. The workshop included presentations, group work, panel discussions and a visit to the fur design center FurLab.
The Dutch Fur Institute's retail project would serve as a model and possibly be replicated in the member countries and take further concern for the national adjustments. The purpose was to underline the current and potential consumers including the sustainability aspects within all the value chain stages. Fur is currently more popular than ever, and more than 70 % of all high-fashion brands are using fur in their collections. The seminar was organised by FurEurope.
For further information please contact us