By furfashion
March 22, 2019
Growing up on a farm, Brooke quickly became accustom to the production processes in animal industries. From a young age, Brooke appreciated the natural resources the animal industries have given mankind for millennia, and it is for this reason she designs and creates with respect when using fur and other natural fabrics. In fact, Brooke confesses…
the more I researched fur and began to work with furriers on the production of garments, the more I understood the inner workings of the industry – especially the animal welfare on farms – which is something I wholehearted support.
(me too!)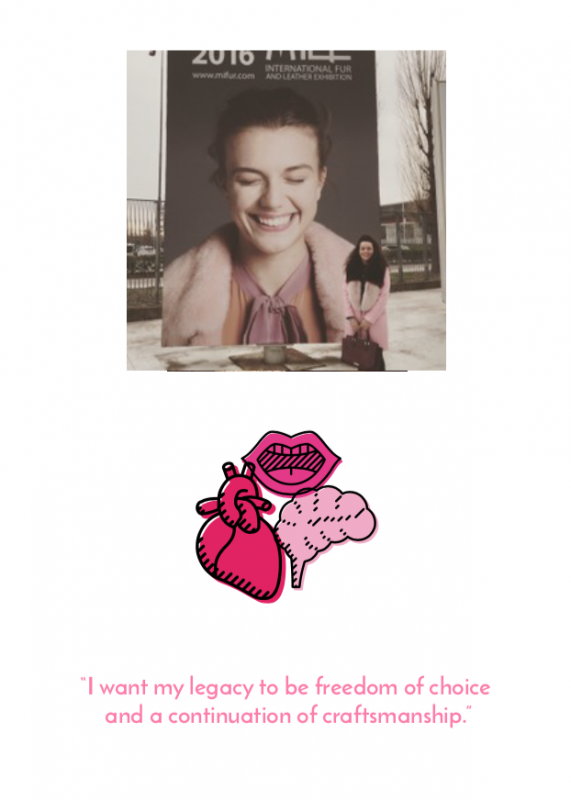 So, the next question would of course be: Where do you source your fur from, Brooke?
Primarily I source my fur from fur merchants which I know have the highest levels of animal welfare – independently regulated of course. Today, a lot of the new furs I source I get from fur exhibitions like MiFur in Milan through which I have met a number of small family businesses who have become my suppliers. This is one of the reasons I love attending exhibitions, and enjoy sourcing fur from MiFur, because I feel it is important to source from the very best and to keep up to date with new techniques and trends. Mifur offers the chance to view exhibitors from all over the world in all different forms regarding the Fur industry from pelts to machinery and it is key to little designers like myself not only for sourcing but also to make new friends and connections.
I can't help but feel from talking to Brooke that much of her passion for working with fur comes from the family-orientated nature of the fur industry. From sourcing fur to production of garments, Brooke is brimming with heartfelt stories which fuels her drive to work in this integrated community. I particularly enjoyed on account, I will let Brooke tell you all in her own words.
One of my first jobs when I started doing repairs was for a family close to me who had unfortunately lost their grandmother. In possession of their grandmother's old leopard print beaver, which has started to wilt, as all natural products do, they wanted me to remodel the coat into something they could remember their grandmother by. So, I made this lady's daughter, grand-daughter and great-grand-daughter, three fur bags. Something practical and sentimental which made for an emotional reception as I'm sure you can imagine. They were so grateful that they could cherish their family members memory, and have something they could use. This duality of fur is something you can't get with any other material.
(We can all find parallels between Brooke's account and our own truths, what a beautiful story, thank you Brooke for sharing.)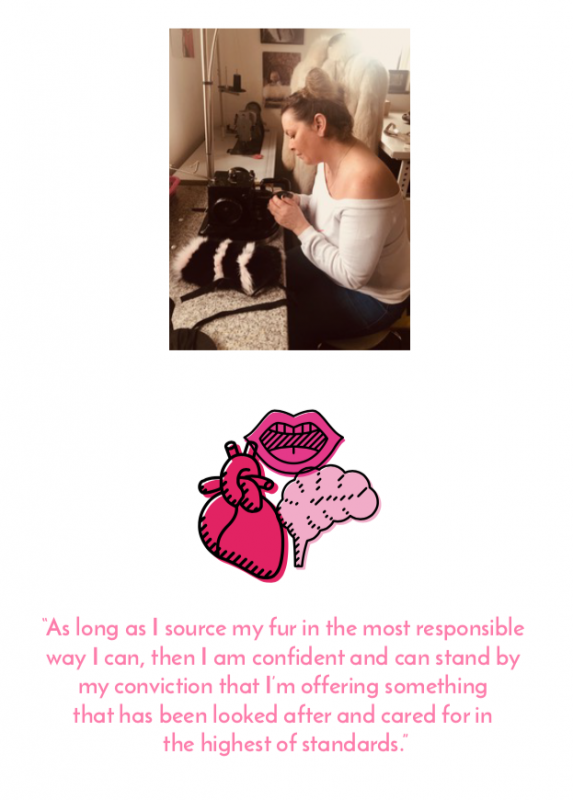 This highlights another important factor that I stand for as a fashion designer and manufacture, expending the life cycle of clothes simultaneously rejecting fast fashion and throw away culture. Additionally, this story helps debunk the myth that fur fashion is a luxury item, it doesn't have to be! My creations, whether bespoke new pieces or remodelled creations are all affordable tailor-made fashion and accessories to the highest degree.
Having made such an impact on so many lives through your creations. It begs the questions: what do you want your design legacy to be? I, and my readers, would love to know.
I want my legacy to be freedom of choice and a continuation of craftsmanship. While fur is considered a luxury fabric, as I have already said, it is not because of its price. Fur is a luxury item because of its versatility and beauty, because of the craftsmanship that goes into it, this is rare in today's fashion industry. And this is something I won't ever take away from fur, it is a material everyone can enjoy.
Brooke's passion for fur has reignited my own adoration of the fabric. It feels like Brooke has grown up in a fur trade legacy because she is so knowledgeable on the complex debates that surround the industry. So, you can imagine the Fur Guru's surprise when Brooke confessed that she is the first person in her family and inner circle of friends to work with fur. Has this been an easy road Brooke?
I remember a time when one of my friends blurted out "I can't believe you work with real fur", and I had to kindly remind her, "but you're standing in a pair of Ugg boots telling me that, do you know what they are?" And that's the issue with today's consumers, a lot of people don't know what they have and where it comes from. This is something I promote and am transparent about.
I am aware of this kind of conflict that surrounded fur in the 80's, while I was not working with fur back then, it appears the same challenges have resurfaced. It is my job as a fur designer to use my knowledge and position to educate those around me.
When I first started working with fur I felt proud. And since then, I have had to educate my friends and family on the inner workings of the fur trade. Today, my mum and sister are so supportive, they often accompany me to fairs. They, like me, love it!
Brooke explained that her sister, also a young creative, is a florist who has expanded her store to stock fur homeware goods like cushions that Brooke designs and produces. They are the first generation of a fur family legacy and the fur guru is proud of these sisters for their creativity and innovation.
As always Brooke, I end my Here Come the Girls features with a quote which you remember at tough times or career goals, is there a quote you can share with us?
"Anything is possible, keep dreaming, believe and achieve"