By furfashion

"Everything created by human hands express something – above all the personality of the creator. The same thing is true with a dress. But since so many people are working on it, the real job is to get all the hands that cut, dew, try on and embroider to express all I have felt."
– Christian Dior, 1954.
The sold-out fashion exhibition the world is talking about, Christian Dior: The Designer of Dreams, is just that – a dream. Housed at London's iconic Victoria & Albert Museum (V&A), a suspended duck-egg blue ribbon guides the way to one of Dior's greatest archives where, upon entering its imposing entrance, I was greeted by the early years of Dior's life and career. Encased in glass are Dior's first fashion sketches which would ultimately be his gateway into fashion design, combined with facts which chronicled Dior's Normandy, France, upbringing. All of this softly introduced Dior's creative genius to eager onlookers. Presented with Dior's love for gardens, travel, art, architecture and fancy-dress costume design, a series of paintings, photographs and sketches trace Dior's footsteps to culture and couture capital of the twentieth century – Paris.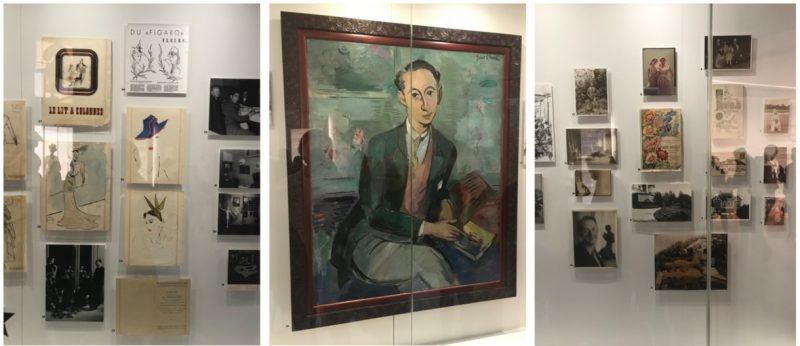 Dior overcame many obstacles to become one of high fashions greatest designers. He fought his parents who pressed him to study Political Science, served his country as a conscript during World War Two, and overcame financial ruin following the 1929 Wall Street Crash. Overcoming all this hardship, Dior unveiled his first haute couture collection on 12 February 1947, where he famously rewrote the fashion rulebook presenting a radical alternative to the masculine boxy female fashions of post-war Paris. Dior's stand-out silhouettes, which synched the waist of the women who wore them, would become a defining feature of all his collections to come. His soft shoulder, shaped hips and figure hugging pencil skirts celebrated the natural curves of the female form – a look epitomised by Dior's iconic Bar Suit and Hat look. Carmel Snow, editor in chief of Harper's Bazaar, announced, "It's quite a revolution, dear Christian. Your dresses have such a new look!"And thus, Dior and his collection was christened the New Look of high fashion.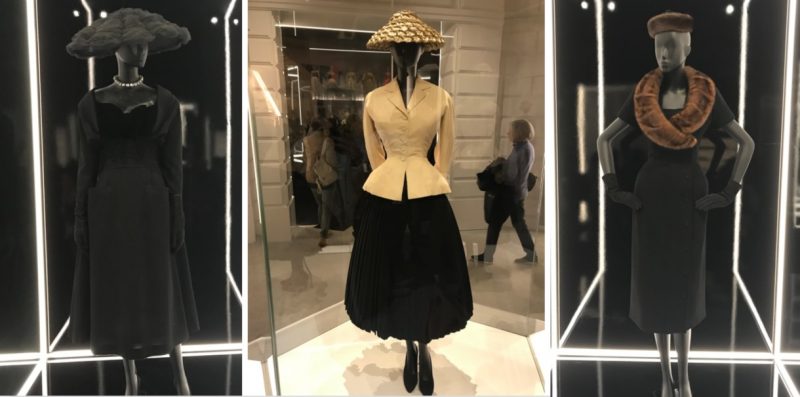 Following the success of Monsieur Dior's inaugural collection, the world eagerly awaited each up-coming collection. Dior designed 22 collections throughout his career, many made up of 150-plus looks and each one paying homage to female curves through structure and proportions. Dior's innovative designs ensured new and returning custom and, ultimately, the continued success of the design house. Dior confessed 10-years after his first show, in 1957, "I think of my work as ephemeral architecture, dedicated to the beauty of the female body"– a statement which highlights his passion for architecture and fashion, and the mutually-informing symbiotic relationship of both.
Causing quite the sensation when it was first released was Dior's H line. Worn by Hollywood starlet Jane Russel, famous for her curvy figure, in part to shun critics who accused the design of suppressing the female body when previous collections had celebrated it, the design features a material Christian Dior himself, and the house of Dior today, love: Fur. The fitted black dress with button detailing and warm brown mink collar, with matching hat trim, suited the starlet beautifully and proved its allure on all body types.
Dior infused natural fur in his ready-to-wear and haute couture collections throughout his career. And since his untimely death, in October 1957, all the creative directors who took the helm at Dior continued the house's affinition and use of the material. Christian Dior's golden age of fur came when Frederick Castet was appointed the head of Dior's fur division. Castet became Dior's master furrier and, along with the Fendi sisters among others, brought innovative fur styling into mainstream fashion by 1968. Known for his bold treatment of furs, Castet trimmed, plucked, dyed and cut any and all types of pelts in an era where Dior furs were growing in popularity. Fast forward nearly twenty years, to the 1980's, a time of ostentatious luxury, glamour, powerful women, and extravagant styles, a triumphal era for Dior Fourrure, Dior was teaming with customers flooding stores to buy furs with costly price tags. Dior's furs had become fashions hottest commodity, much which can be attributed to Frederick Castet. Today, the house of Dior stands confident and strong in their resolve to use sustainable and natural materials, like fur, leather, silk and wool, in their womenswear and menswear collections with artistic directors one after the other parading natural fabrics on the catwalk, keeping Christian Dior's love of the magnificent natural materials alive.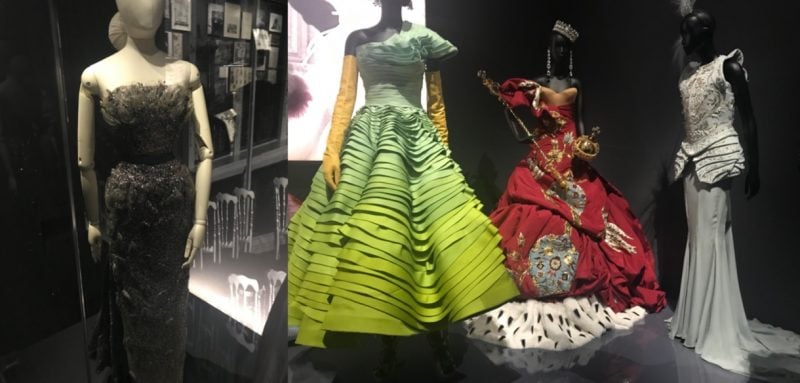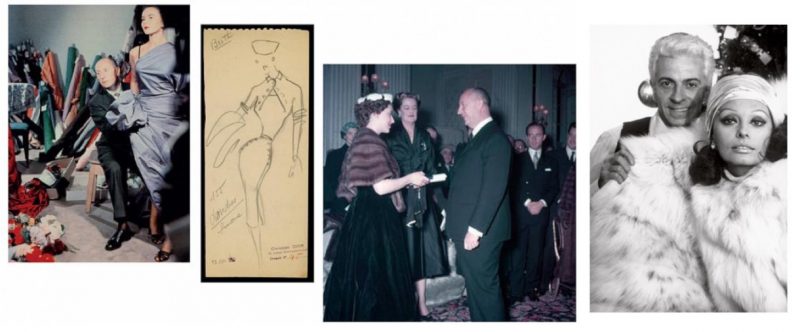 As I navigate the rooms of this exhibition, each one beautifully reflecting the era in which the clothes they display were created, the inspirations and vision of each period is too kept alive. This exhibition pays homage to and celebrates the many countries Christian Dior travelled to, expressing the brands DNA whilst never crossing the line between cultural appropriation and appreciation – something many brands fail to do with such poise. An Egyptian inspired era of Dior's history, showcasing John Galliano's gold and turquoise sphinx inspired gowns, seamlessly transitions into an amber glow with designs of bold red, the colour of good fortune in China, another source of inspiration for Dior. The creations of Asian inspired artisan Raf Simon's are nestled side-by-side Jardin Japonais 1953 intricate Japanese cherry blossom inspired ball gowns. Mesmerised by their intricate beauty, but not for long, as they are cushioned by captivating Indian inspired saris designed by Marc Bohan. All of this makes for a colourful display of culture.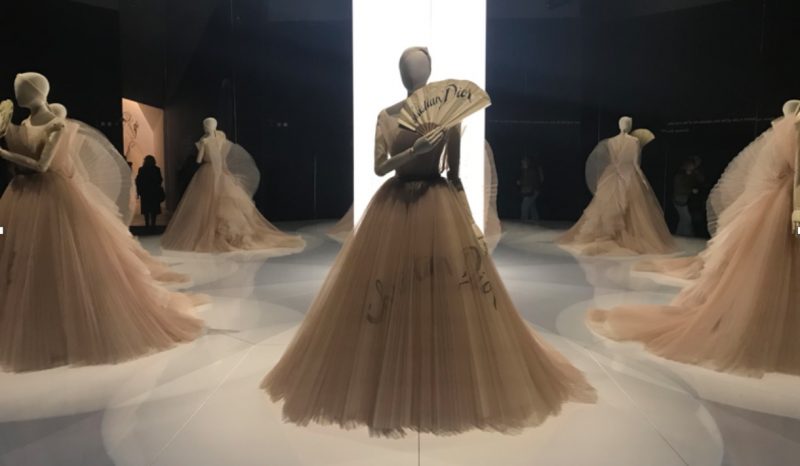 Dior was inspired by the many countries and cities he visited, most notably Britain and its capital city, London. It seems ironic that during a time where Britain wishes to sever ties with the European Union, of which France is a central pillar, an iconic French designer would be declaring his love for Britain in central London. Nonetheless, politics aside, a cross-channel love-affair between Dior and Britain it was, and one which is still blossoming today.
One particular cross-channel friendship which stood the test of time belongs to long-time mutual admirers Christian Dior and Princess Margaret, the younger glamorous sister of the current monarch, Queen Elizabeth. Following his first fashion show in London, Dior began supporting British charities through his shows, often working with British fabric designers and manufacturers. It was during this time he shared a friendship full of fashion with the young princess. In fact, the mutual adoration between Dior and the British princess led Dior's to create one of his most famous looks: Princess Margaret's 21stbirthday dress. This buttoned bodice and full golden embroidered dress simultaneously represented Dior's New Look – highlighting the petit princess's small waist – whilst at the same time reflecting the conventions of tradition through the dress's royal grandeur. This dress not only illuminates how Dior embraced Britain, and the British adopted the Frenchman in return, but, it also demonstrates Dior's talent for infusing history with modernity, and art with architecture.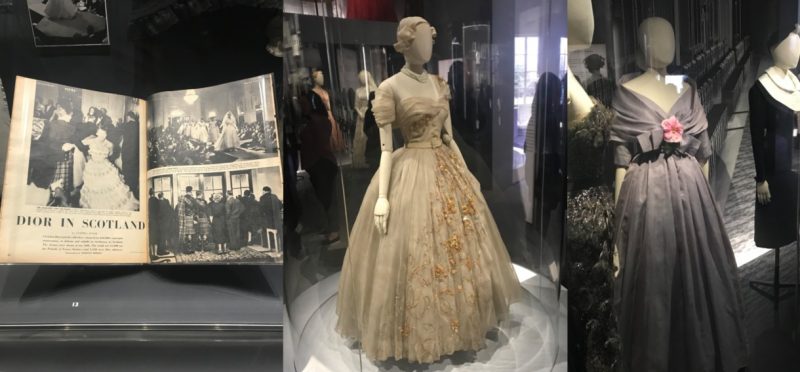 "The relationship between Monsieur Dior and British culture is fascinating," the current creative director of Dior, Maria Grazia Chiuri, told Vogue during a preview."He came here because he wanted to be free – it's the same story of many. Britain is a place that is strongly about freedom and this comes across in its fashion. I'm lucky to have this important legacy to move the brand forward."
Christian Dior: Designer of Dreamsis the most creatively and culturally progressive exhibition of the twenty-first century. Demonstrating the difference between cultural appropriation and appreciation, Dior's exhibition is bursting with inclusivity. It's a celebration of glamour and architecture and a signifier of innovative art and design. Christian Dior will forever be known for creating a New Look which changed fashion's history and future forever. He is Christian Dior, the Designer of Dreams and architect of aspiration.