By furfashion

On the 9th of April, the BFTA (British Fur Trade Association) hosted their competition one-day workshop for fashion design students from universities all over the UK. The BFTA Annual Design Competition is one of the key parts of their University Outreach Programme, and the aim of their competition is to encourage students to be innovative in design, and to explore the exciting and creative possibilities that fur gives to design, as well as learn about fur and how it's produced. Participants are asked to create a collection of garments that include the use of fur and is open to all UK based fashion students and recent graduates. As part of the competition process, 10 finalists are selected and invited to attend a one-day workshop, where students receive a detailed introduction to the fur industry including information on sustainability, one-to-one expert feedback on their designs and bespoke training. The day also includes a presentation showing fur techniques, a tour of a fur warehouse and information on auctions and pricing. Following the workshop, finalists are asked to further develop their designs based on the knowledge they reaped at the workshop, and winners are selected on their resubmitted entry. Prizes include an amazing expenses-paid trip to 'Studio NAFA' in Toronto for a week long skills developing workshop, and a place at Rebecca Bradley's Fur Summer School in London. These pieces will then be entered into the International Fur Trade's REMIX competition. One of the very passionate students there, Ineta, summed up the experience by expressing that she "felt like I belonged there, and I learnt so much about the fur industry, sustainability and manufacturing" and judging by the other student's feedback, the feeling was mutual.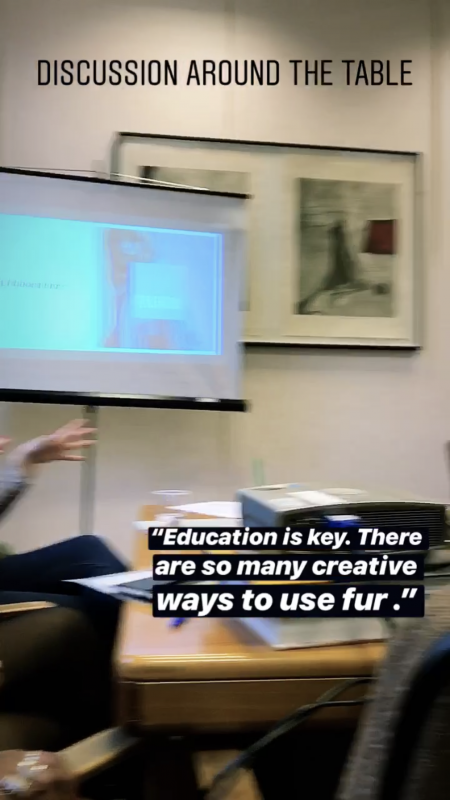 For the first part of the workshop, students began discussing what they thought of natural fur, and why they entered the BFTA competition. Marc, an enthusiastic designer told me he "always felt that I have a strong connection with fur." Another ardent student, Eliza, explained that this year wasn't her first year to have entered the competition, and that "last year, I had the privilege to win third prize." She continued saying that "after winning the third prize, I made a promise to myself; I will be entering this competition until I actually win it." Another student, Ineta, revealed that she "came across the BFTA competition and decided to give it a go", whilst never having worked with fur before, the competition had given her "a new perspective, and discovering the BFTA competition was just the perfect timing." It fortifies the idea that education is fundamental in playing a part of somebody's refined decision, as plenty of students were open to learning and experimenting, as one student, Mwewa, seamlessly rounded up, "I had such a wonderful time and I learnt so much more about fur than I ever did and I gained so much knowledge that we shouldn't be afraid to experiment with it."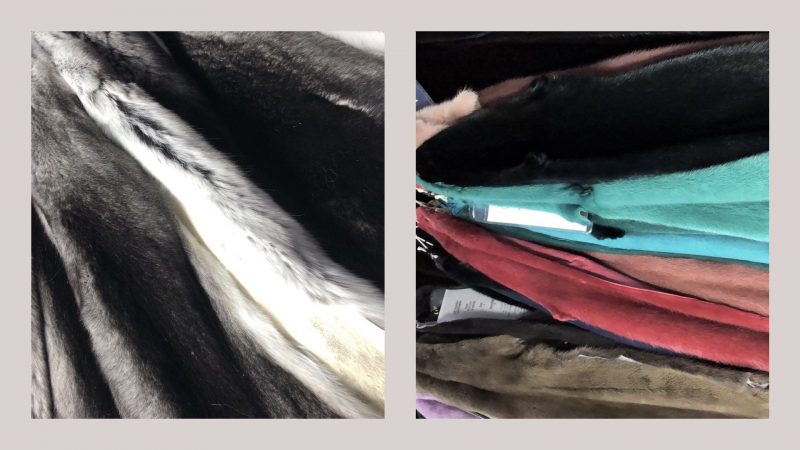 What I was intrigued to know was what the finalists thought of natural fur before applying to the competition, and if their view changed subsequently. From witnessing different types of fur, to realising that fur is a limitless material that can produce endless designs with zero waste, Marc explained that his "point of view in using natural fur in the fashion industry has not changed following the BFTA workshop" as he has "always liked and approved of using natural fur. If anything, the workshop highlighted how much more of a negative impact the use of synthetic fur has on the environment." Eliza expressed that she "did not have much knowledge about it" and that she was more a consumer rather than a fur designer. She carried on saying that that belief has "ultimately changed when I first entered the competition" as she "truly understands why natural fur is good" and how she will "never use fake fur" due to the detrimental environmental affect it has. Ineta makes an imperative note and tells me that she was a "no fur person" and would use substitutes in her collections because of "all the social media influences and trends", she continued, "I was sceptical at first but curious, so started researching real information and have absolutely changed my views regarding real fur and submitted my designs for this competition." Her point is very valid; social media and anti-fur activists have subjugated people's thoughts and confidence in working with a material that is a clean and sustainable fashion material which is biodegradable, sustainable at every stage of its production and lasts for decades, for an adverse alternative, plastic. She concluded and said that "coming to the workshop and learning even more from industry professionals and seeing things with my own eyes has given me the understanding and a major interest in using and working with real fur."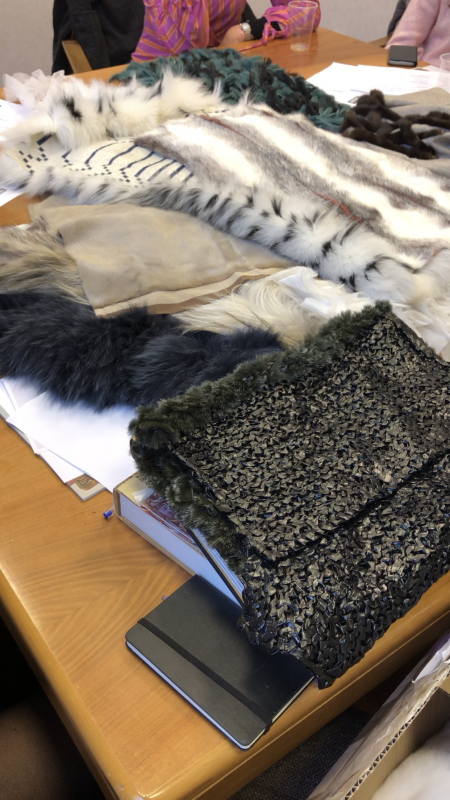 Due to the lack of information from consumers and designers on natural fur, I wanted to know what more could be done to ensure that future fashion students will have the knowledge and capability of working with natural fur. Eliza tells me that the key is "through talking to them." More of the other students that attended said the same thing, as although universities may be spreading the word, more needs to be done to highlight competitions, and information regarding natural fur in general. However, it's not enough to purely rely on universities alone. Eliza continues saying that "after winning the third prize, I could hardly stop talking about it. Telling the truth about real fur. Talking about its sustainability and how it is vital for the environment." This is an effective method for extending the imperative messages that IFF, the BFTA and the whole fur trade promote and believe in. Marc reveals that he intends to "continue educating people to make them understand using fur is not only sustainable, it is the best option to help the planet." He continues by saying that "the most important thing in my opinion is to educate people so that they understand that there is so much fake news regarding fur… whilst there may be videos of mistreated animals, they do not represent those who work in the fur industry – those people are evil and do not represent the industry. " Peers listen and understand one another if it comes from someone who they can relate to more than any other way of communication. Additionally, Ineta explained that "social media has so much power over our thoughts and beliefs" and that she was "lucky to decide and learn from the right sources of information." Ineta supports the idea that some students lack general information about working with fur and that independent research is vital in order to make an educated decision on which side of the argument you stand on. She continues to say, "many students are deprived of information because of tutors' or other members of staffs' personal views and this is a steal from the potential of future designers" – this is another very important reason why students who are participating in fur competitions and/or work with fur need to be a leading voice for the fur industry as even in an educational environment, sides are taken.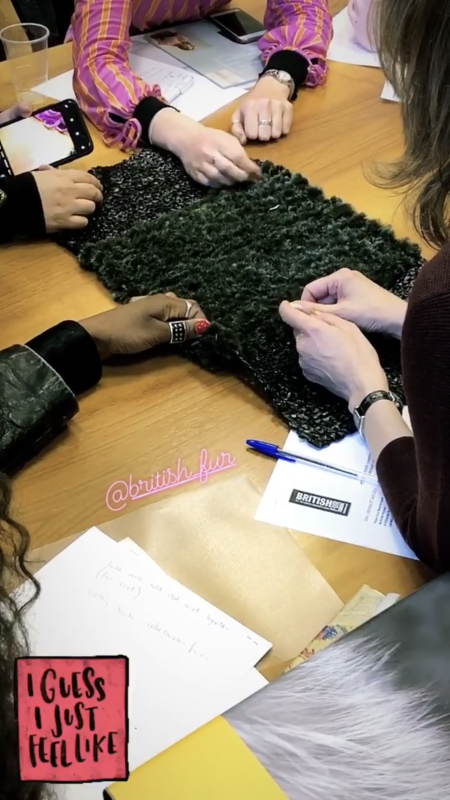 From seeing all the creative ways that fur can be used, I saw the students really inspired and interested which made me think; from a designer's perspective, what do the students think fur could add to their future designs that other materials simply couldn't? Ineta told me that using natural fur over plastic fur will "allow me to create intricate surface decorations, create statement looks and because fur can be cut in so many ways and sewn without allowance, it saves material and it can later be remodelled. Possibilities are endless from the design perspective and it is sustainable." Eliza also adds on to this and tells me that "fur for me is a naturally sustainable product" and that the "world is already drowning in plastic." Natural fur is a material that, unlike any other material can be re-used over and over again, if taken care of properly, and it "can be reused even if the design is out of fashion, vintage fur is very much valuable and renewable, and therefore for me, it's sustainable." – Eliza. Finally, Marc answers, and explains that he is "a designer who always strives for quality… quality fur has a longevity that other fabrics do not have." He continues, "I want to use quality materials which will last and will look as good as new even years later. This is something fur can do. Fur can add a different dimension, depth and texture to a garment, whereas other materials can be flat. Fur has unique properties that other materials simply don't."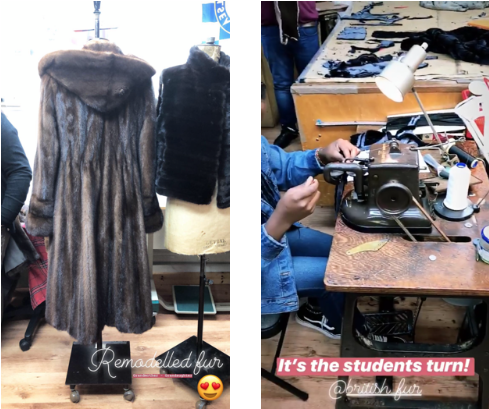 To conclude, the BFTA workshop was a thriving success, where the students thoroughly enjoyed and learnt that natural fur is more than what anti-fur activists say; it delves deeper than fake videos and fake news. It was positive to learn that there are a lot of future fashion design students who are optimistic when learning about fur and actively working with fur – a controversial material that becomes scrutinised by the media due to lack of knowledge. Today's students and future designers have a key role in shaping what the future of fashion will look like. Therefore, investing in personal and educational research are both key for those students to understanding what materials are available out there to work with so they can in turn then make their own informed choices and decisions based on facts as opposed to propagated media. Embedding sustainability and promoting responsible thinking and sourcing that early on in their careers has never been more important in securing a greener future for us and for them.
We are thankful for the BFTA and other IFF members for their ongoing educational programs around their world and open dialogues with those future designers.