BFTA Design Competition – take the first steps towards Milan!
2017 Results:
First Prize: Glen Mafham Graduate from Liverpool John Moores University
Second Prize: Gabriella Collins from Plymouth College of Art
Third Prize: Eleanor Cowlard from Manchester Metropolitan University
If you are a budding young designer and are interested in exploring with fur, then this is for you. Fur is opulent, beautiful and incredibly versatile to design with and we aim to inspire and inform students and young designers as they begin their journey with fur.
The aim of our competition is to encourage students to be innovative in design, to explore the exciting and creative possibilities that fur gives to design but also to learn about fur and how it is produced.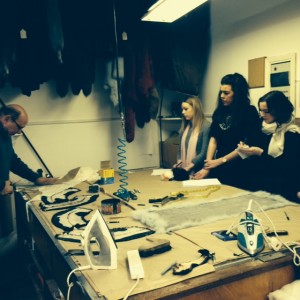 Participants are asked to create a collection of garments and/ or accessories incorporating the use of fur. We select around 10 finalists who are invited to attend a one-day workshop at the BFTA. They receive a detailed introduction to the fur industry including information on sustainability and production methodology, one-to-one expert feedback on their designs and bespoke training in one of our member's workrooms.
Each year we select a winner and a runner-up. Both receive a range of prizes including (cash), the production of their selected winning garment, and entry to the International Fur Federation's international REMIX design competition. This is supported by Vogue Talents and if their design is one of the 10 international finalists they then receive an all-expense paid trip to attend the competition in Milan and to see their design displayed on the catwalk of a dedicated fashion show. In addition to this, our first prize winner will also receive an internship at Hockley, London.
In 2014 our BFTA Winner, Altynai Osmoeva, representing the UK competed against young designers from across the globe and went on to win the Silver Award at REMIX. Read Altynai's blog about the BFTA competition and her experience representing the UK.
In 2016 BFTA winner, Edda Gimnes, was awarded the Bronze Prize at REMIX.  Read more here.
Quotes from students following our competition finalists' workshop day:
'The day was a wonderful interactive experience for me and especially to be a part of it, it just made me feel privileged to be there.'                                                               
 'I found looking at all the samples really useful as it gave me more inspiration and I didn't know how many different techniques there was to give different effects. I also found it interesting learning how to cut and sew fur. ' 
'I found the tutorials really helpful because it was great to have a fresh pair of eyes look at my work and give advice on what could be developed further – the techniques and advice given will definitely help me develop my portfolio for my degree.' 
 'Everything was so inspiring! It was very motivating to meet real industry professionals. Especially informative having a one-on-one tutorial and listening to valuable feedback. To also view the techniques in person brought it to life; it soon became very realistic and able to comprehend the possibilities.'
'I thought the activities of the entire day truly complimented one another, from seeing the different furs and contemporary techniques to cutting and sewing furs.'
If you would like to enter this exciting competition, or receive further details then apply here.   Students and young designers should contact us with details of the college they are studying at and name of the course.
See here to read a blog post detailing the manufacture of a winning design by Gabriella Collins